Missing You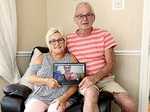 Missing You is a six part series about the lengths the Irish Diaspora will go to maintain and nurture relationships with their loved ones in spite of vast geographical distance.
A six-part observational documentary, Missing You captures their stories and witnesses their relationships all through the confines of video calls. Viewers see firsthand the intimacy, the honesty, the highs of everyday life, the lows, as well as the complexities of missing home.
Missing You is unique - it is the first series in the world to be created exclusively from video calls, user generated stills and videos. The programme gives the audience unfiltered and unprecedented access to the participant's lives and shows that, though they may be far apart physically, their emotional ties remain as strong as ever.
Over the course of six episodes, viewers will follow a number of Irish people, far from home, as they keep in touch with their loved ones. Missing You records the patterns of everyday life from Libya to Laois, Boston to Cork, and Pearse Street to Sydney, and places in between including Holland, France, Cyprus, London, New Zealand, Arizona, Abu Dhabi, and South Korea.
By recording the video conversations of our group, as they call home to their friends and family, we experience everything with them, from big announcements to unexpected moments of everyday magic - a wife far from her husband's side; a brother and sister experiencing the cycle of life; and a daughter introducing her new son to her family back home.
Episodes
Missing You, Episode 1 of 6, RTÉ One, June 7th at 8.30pm
In episode one of Missing You viewers meet:
Gemma Flood (35) who has been living in Sydney Australia for over ten years. She left Pearse Street, Dublin and mum Ann, dad John Joe and sister Johanna, having planned to just stay for the year. But then life and love got in the way. Gemma is now expecting her first child with Colombian born partner, Ale. It's Christmas 2015, a month to go to Gemma's due date, and a month until Ann and John Joe's visit, we meet the Floods as they celebrate he festive season far from each other, and prepare for the arrival of Ann and John Joe to Sydney, as well as the arrival of baby Lucas.
Mum of eight, Joanna Golden, moved to Libya with her husband in 2012. While the marriage did not last, Joanna decided to stay on, and now runs an English school there. Two years ago she met her new husband, Fazel Patel, online. Half an hour after meeting for the first time the couple married. Though Joanna remains in Libya, and Fazel in Goucester, video calls keep their relationship alive.
Ken Scully (30) moved to be with his partner, Keith, to Arizona. Missing best friends Jeff, John and Sam, who live in Capel Street, Dublin, he tries to hang out with them as much as possible - even if it is through video call.
Sister and brother, Romy and Cole Delaney grew up in Laois in a large and tight-knit family. After college, Romy moved to London, while younger brother Cole made Dublin his home. This has been a big year for both siblings with a recent death in the family, and Romy giving birth to her first child, Arlo. Now, more than ever, Romy and Cole know the value of keeping family close.
In 2014 UCC student, Holly Austin (23), left mum Regina, dad Charlie and younger brother Ben to go on her J1 visa to the US. Though only meant to spend the summer, Holly fell in love with America. and with American soldier, Keith. It turned out the pull of love was stronger than the pull of home. Holly returned to Boston after her graduation, and married Keith in a small ceremony in Boston. Regina misses her only daughter, and frequently sends parcels of Tayto and chocolate from Cork.
Adrienne Moran and Suzanne Sheerin have been best friends since their school days in Artane, Dublin in the 1970s. When Adrienne was 11, she emigrated to Melbourne, Australia with her family. Over the last forty years, they have kept their friendship alive by letter, phone and now video calls, sharing the highs and lows of life. Adrienne reminisces with Suzanne, and also introduces her to the new man in Adrienne's life.
Missing You, Episode 2 of 6, RTÉ One, Wednesday, June 14th at 8.30pm
After a long haul flight from Dublin, Ann and John Joe Flood have just landed in Sydney, Australia. Daughter Gemma surprised them on arrival; with an arrival of her own! Gemma discovers that her family in Dublin have been keeping a secret from her. Half way through her pregnancy, her mother Ann had a heart attack, and almost died. Wanting to protect her youngest daughter from any worry or anxiety, Gemma's mother, Ann hid this from her. Gemma gets the entire family on a Skype call, and makes them promise to never keep her in the dark again.
Joanna Golden's eldest son Sam, left Ireland for Libya to fight in the war against Gaddafi in 2011. Before he left, she made a promise that if he made it safely through the uprising, she would stay and do all she could to make Libya a better place. She has now been married to Fazel Patel since 2014, after an online courtship. They have never lived in the same country. She is finding that having a long distance relationship isn't without its problems. After two years of marriage Joanna and Fazel are more than ready to live together. But with busy independent lives in Libya and the UK, making the move hasn't been easy.
Romy & Cole's younger brother Fionn died suddenly in October 2015, from a brain haemorrhage. He was just about to turn 19. Romy was heavily pregnant with her first child, and wasn't able to make it home in time before Fionn passed away. In their first year of grief, and in Baby Arlo's first year, Romy and Cole reminisce about Fionn, the night he passed, and the call Romy received to tell her the news. In their grief they try hard to focus on the new life in front of them.
Laois born, James Finlay (47) met his Dutch wife, Belinda in the University of Limerick in 1989. Six years later he moved to the Netherlands. He now lives in Dordrecht with Belinda and their two children, Sorsha and Oisin. Like his father Seamus (72), James is a sports fanatic. And even though Seamus lives in Laois, they still manage to watch the games together.
In 1971, Colette Redmond (73) left her beloved Howth, Co. Dublin for love, to start a new life in Cyprus with husband, Andreas Ioanndiou. But Colette misses her hometown every day. Though she hasn't been back in over ten years, childhood friend, Edgar McLoughlin (72) keeps her up to date with news from home.
Missing You, Episode 3 of 6, RTÉ One, Wednesday June 21st at 8.30pm
Two years ago, at the age of 57, Vicky Andrew left Ireland to live in Vancouver. During the recession, she was forced to close her shop in Cork. Unable to find work in Ireland, she emigrated in search of a livelihood, leaving her baby granddaughter, Aria, behind. Aria is now four, and lives with her mother Anna in Blanchardstown. Vicky watches her grow through weekly video calls. It's not always easy talking to a four year old through a screen.
Joanna Golden has just arrived home to spend a summer in Dublin. While now closer to her children, she still is not with her husband of two years, Fazel with numerous plans to be together not materialising. For now, it seems Joanna can't go to Fazel, so he decides to go to her, and books a flight to Ireland. Finally, two years after their first meeting and marriage, Fazel and Joanna are to be united - albeit it for fleeting visit!
We catch up with everyday family life with the Floods in Dublin and Sydney. Before baby Lucas goes to bed in Sydney, granddad John Joe Flood introduces him to his beloved pigeons. And later Gemma offers tips to niece Chloé, who is putting her home economics skills to the test in the kitchen in Pearse Street, assisted by granny Ann.
Holly Bourassa married American Keith in the States after her J1 summer. She is now planning a more extravagant Irish version. Finding it difficult to plan her wedding from a distance, her mother, Regina in Cork, is on hand to help in any way she can.
Emma Doyle (26) left Kilkenny and her parents Joe and Johanne, to move to Perth, Australia in 2014. That year she met partner, Paul and soon after, came the happy news that they were expecting a baby. But just before their son, Klay, was born, Paul was diagnosed with stage four skin cancer which had spread to his brain. Emma is a rock of support to Paul, but when times get difficult she calls home to her parents in Kilkenny, for a shoulder to cry on.
Although nearly 40 years have passed since Adrienne Moran left Ireland for Australia, her relationship with Suzanne has not been strained by the 9,000 miles that separate them. As they were as school children in the 70's, they are still closer than ever.
Missing You, Episode 4 of 6, RTÉ One, June 28th at 8.30pm
Six months have now passed since Romy and Cole Delaney lost their younger brother, Fionn who died just before his 19th birthday, and their loss still feels very raw. Talking to their mother, Christine, they decide to make a video to commemorate Fionn's year anniversary. But as time goes by, and the memories still fresh, Romy and Cole struggle to come to terms with life without their brother.
In Sydney, new mother, Gemma Flood still worries about her Mum's health, and checks in with Dad, John Joe to see how Ann is keeping. But life in Sydney isn't all plain sailing. While the lifestyle in has a lot to offer Gemma and partner Ale, when the stresses and strains of life and new parenthood get on top of her, she needs the support of her mum, Ann, more than ever.
Old friends, Collette and Edgar grew up in Howth, Dublin. Edgar's wife's upcoming anniversary makes both friends feel nostalgic. Colette remembers her husband Andreas, who passed away suddenly, when he was in his 30's. And the two friends share memories of their lives and loved ones.
Sisters Anna Marie (42) and Caroline (44) come from Wicklow. Soon after finishing their education, they left Ireland to pursue careers and raise families. They now live in France and Italy, and while they have not seen each other in the flesh in four years, a day doesn't pass without at least one video call to each other.
Vicky Andrew is feeling the loss of missing out on granddaughter Aria's milestones, whilst living in Vancouver. Over video calls Aria, fills her Granny in on her excitement at starting 'big' school. Determined not to miss any more moments, this spurs Vicky on to make a big decision.
Regina first met son-in-law Keith at Holly's wedding in America. However, the rest of the family were unable to travel to the small ceremony in Boston. Before the Irish leg of their nuptials comes around, Holly has decided to spend Christmas in Cork so she can introduce Keith to Dad, Charlie, and the rest of her family and friends. Regina is already dreading the goodbye at the airport.
Missing You, Episode 5 of 6, RTÉ One, July 5th at 8.30pm
For Emma Doyle in Perth, Australia, the first year of her baby's life has been a rollercoaster. Just before Klay was born, partner Paul was diagnosed with Stage 4 skin cancer which had spread to his brain. After almost a year of treatment this is a big week for the family. Will Paul and Emma get the news they were hoping for?
Gemma and Ann catch up before Ann heads off on holiday and Gemma faces into moving apartment in Sydney. Ann has been shopping for her holidays and is keen to show Gemma her purchases. Later with Ann on holiday in Benidorm, Gemma catches up with dad, John Joe who is home alone. But he won't be for long, as Gemma plans to go home to Dublin for a visit with baby Lucas.
Sinead Fraser (42) lives in Taranaki, New Zealand and only gets home to Greystones, Co. Wicklow once every two years to see her parents Richard and Eithne. As Eithne is on regular dialysis, she can't travel to visit Sinead, and grandchildren Chloe and Quinn. But through video calls the family never miss out. Both Eithne, and Sinead's two brothers, Cathal and Ciaran, have kidney disease. With the brothers awaiting transplants, it's not unusual to call home to find one or more of the family in hospital. But all the sweeter to find them back home.
With Fionn's first anniversary just two months away, Romy and Cole's plans for a video to commemorate Fionn's life are moving along. But technical difficulties and time are going against Cole, and he Skypes Romy for support.
Missing You, Episode 6 of 6, RTÉ One, Wednesday, July 12th
Gemma Flood is now back in Pearse Street to spend time with her parents for a holiday, and is feeling the benefits of being close to friends and family. Gemma feels the pull of home more strongly than ever, but can she convince partner Ale to start a new life in Ireland? Time comes for Gemma to take Lucas back to their life in Sydney, and once again video calls are the lifeline to her parents. John Joe calls Gemma with a worrying update on his health. The doctors have found a spot on his lungs. Will this push Gemma to make the decision she needs to make?
In spite of the distance between Arizona and Capel Street Dublin, best friends Ken, Jeff, John and Sam share everything. Ken Scully checks in with best friends to share his battle fighting against the bulge!
Romy and Cole's younger brother Fionn died almost a year ago. With just a month to go to his anniversary, memories of the night he died are replaying in their minds. Later, as Romy prepares to leave for Ireland, the reality of the deadline for Cole's first anniversary video for Fionn is hanging over him.
Living with severe kidney failure, Sinead Bierney's two brothers are awaiting life-saving kidney transplants. Each time she calls home to Greystones from New Zealand, Sinead lives in hope that there'll be good news. The reality of this wait is brought home to her, when Dad Richard calls to tell her that her brother, Cathal has missed a call from the hospital for a possible transplant.
After countless video calls but four years apart in Rennes and Verona, sisters Anna Marie and Caroline O'Rourke decide it is time for a long overdue reunion.
After 40 years of friendship, best friends Suzanne remains Adrienne's first port of call for anything life puts in her path. They reminisce about their friendship, and their plans to retire to Dingle together.