MEN IN BLACK - A Summer With Frontline Security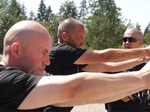 Screenworks spent six months with some of the men and women who work with Frontline Security, a private security firm based in Dublin, as they patrol major sporting and music events, guard nightclubs and building sites and deal with the public in volatile situations. This documentary looks at how, on occasion, the Irish public relies on ordinary people to keep it safe under a variety of conditions.
Frontline Security, headed up by Allan Gannon and employing 500 fulltime staff, is one of Irelands most respected private security firms. This observational documentary features the company at work at major events like The Rose Of Tralee Festival and The Punchestown Festival. Frontline also manages smaller venues ;- like Eddie Rockets in Navan. Every job presents its own unique set of challenges.
Men In Black also features behind the scenes planning at other, lesser-known events like Cage Warriors, which takes place in The Helix in Dublin. It also follows Gannon as he selects some of his staff for special weapons training in The Balkans.
Al Gannon, owner of Frontline, is keen to dispel the view that private security firms are barely better than the criminals they sometimes encounter. I get a lot of steroid monsters coming through the door he says. Theyre no use to me.
Among the Frontline staff we meet Ger who, away from his work, manages an ice-hockey team and who wants to become a Garda. Theres Jackie, a single mum, who sidelines as a dancer to supplement her income from security. And theres Al Gannon himself, who is charged with keeping the company afloat in difficult times.
Men In Black A Summer With Frontline Security, is produced by Screenworks Ltd, and is directed by Rob Cawley, Paul Duane and Laura McGann.