Meetings with Ivor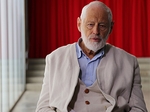 Meetings with Ivor is a documentary on the life and work of ground-breaking psychiatrist Ivor Browne. Browne has been a central figure in Irish mental health for many decades. His pioneering and often controversial work on behalf of the many who cannot speak for themselves is well-known.
Alan Gilsenan's acclaimed new film, produced by Tomás Hardiman, captures the essence of this extraordinary man. In a quirky and challenging cinematic portrait we meet Browne, now in his late-eighties, who is still full of energy, good humour and compassion, and who remains a deeply-informed, startlingly innovative thinker. His unique attributes continue to find vital expression and offer real hope in an increasingly bewildering world.
The film contains contributions from a host of familiar faces including Tommy Tiernan, Tom Murphy, Mary Coughlan and Professor Brendan Kelly. Sebastian Barry and Nell McCafferty also feature among contributors. The piper, Ronan Browne, son of Ivor, composed the haunting musical score.