Meet Your Neighbours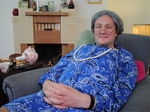 PJ Gallagher is back with a brand new six-part series Meet Your Neighbours. Set in a Dublin suburb, PJ plays a host of colourful characters who make up this close-knit community.
Amongst them are: Ger & Pat, a conjoined pair of twins, one of whom is gay while the other is a heterosexual bigot; The Dub, a gobby Dublin GAA fan full of his own self important opinions;Seamus And Mary, a mixed race husband and wife who have a problem with foreigners; Mr. and Mrs. Roger Balfe, an upwardly mobile couple obsessed with plastic surgery; and Mrs. O'Donoghue, a granny obsessed with cake.
It also stars Simone Kirby as Auntie Maureen and Mrs. Roger Balfe, Gearoid Farrelly as Pat (the conjoined twin), Eoin Whelan as Pascal, and James J. Akpotor (AKA Tiny James) plays Seamus.
RTÉ One, Thursday, 10.15pm