Meet the Neighbours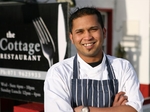 The first series of Meet the Neighbours focussed on the town of Balbriggan, Co. Dublin. This second series returns to create a snapshot of four multicultural communities. Carrick-on-Shannon, Dundalk, Tallaght and Shandon Street in Cork city.
Episodes
Episode One
In Leitrim, Malaysian chef and restaurateur Sham is busy trying to make The Cottage Restaurant a success, and struggles with recession, floods and the harshest winter in decades.
Halala is a Kurdish teenager helping her family and community settle into life in Leitrim as well as studying hard at Sligo IT. As the only fluent English speaker, she becomes the interpreter for the whole community.
Birinda is originally from India and plans to open a crèche but finds the myriad of paperwork, legislation and finding a property daunting.
Episode Two
In Dundalk, where many cross the border for shopping, Nash has just opened a bridal shop. Irish Islamic convert Mohammad Lennon is campaigning for a designated burial ground for Muslims in the Dundalk area. At 53, he's just become a father for the second time.
Episode Three
In Tallaght, Patricia and her husband John rarely see each other as they work opposite ends of the day and night. With three children, their house is a crossroads of activity.
The local chipper, Silvios, is a central hub in Tallaght. Mario is investing in a new chip van and employee, Anka, is trying to improve her life so she can bring her child from Romania to live here with her.
Episode Four
In Cork, American Pat is coaching the Neptune senior basketball team. Despite a lackluster start, Neptune find the stride and the Corkonians travel to Dublin's National Basketball Arena for the final.
Shandon Street mosque is overflowing. Every Friday followers spill out on the street to pray. The imam, Ehab is looking for a new premises.
Danielle has recently lost her job and is studying. She finds it hard to meet people and does not know if her future will be in Ireland.