Medication Nation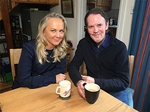 Irish people love their pills. Every year we spend 500 euro for every man, woman and child in Ireland on pharmaceuticals - that's 40 per cent higher than the EU average. Since 2000 the number of prescribed drugs we are consuming has grown from 32 million to 73.5 million items in 2015. Drugs can undoubtedly bring great benefits, but there are also risks.
In this thought-provoking documentary Dr. Eva Orsmond examines Ireland's relationship with over-the-counter and prescription drugs. She asks about what drugs are we taking too much of and what drugs are we taking for the wrong reasons. Travelling the country, she uncovers evidence that Irish people are indeed over-using and abusing certain medications. Codeine tablets are among the best-selling drugs in Irish pharmacies, but many people don't realise that the codeine pill they routinely take for headaches, stress and emotional problems can be as addictive as heroin. Dr. Eva meets one man who needs 96 codeine tablets a day to feed his addiction.
Medication Nation also looks at claims that certain other drugs are being over-prescribed across our health service. In 2015, 1.2 million prescriptions were written for anti-anxiety medication alone. Dr Eva talks to the former Government press secretary Shane Kenny, who was prescribed the sedative Valium for a hearing condition. He suffered from severe withdrawal symptoms, which he says have destroyed his life.
Dr Eva hopes this hard-hitting documentary will make us all question our relationship with drugs that can sometimes end up doing more harm than good.