Mean Streets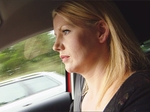 Stress and aggression are commonplace on Irish roads. From the simple beep of a horn to all-out altercations, bad manners and even road rage play out almost every day on Irish streets. Cars, trucks, bicycles, buses and pedestrians are fighting their corner just travelling through the day. Financial stresses, early commutes, aging vehicles and pressurised roads all add to the congestion.
Mean Streets hits the tarmac to look at the current conflicts in daily traffic.
A documentary from the RTÉ TV Factual Documentary Unit.
RTÉ One, Sunday 26 January 9.30pm