Me And My Dad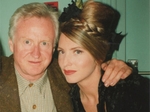 Now approaching his 80th year the brilliant and inspiring director John Boorman is one of the last great mavericks, having directed over 17 films - including Point Blank, Excalibur and Deliverance, made numerous documentaries and written several books.
Me And My Dad is a revealing study of this difficult, charismatic and elusive man by one who should know him best - his daughter Katrine.
Katrine, who previously had never held a camera, follows and films her father over a period of 4 years. Throughout, John attempts to control the entire process. He offers up a crash course masterclass in directing films. With her father as her teacher Katrine creates an intimate and surprising journey.
Vulnerable, cross, funny, nostalgic, wild and wise, Boorman chronicles his adventures in Hollywood but he also talks with great honesty about his childhood, his marriages, his passion for nature, his need for danger and why film is the only thing he ever truly loved.
But what begins as a study of Boorman becomes the story of the Boorman family. A vivid narrative of a perfectly imperfect family emerges and we see the chaos and difficulties his chosen path imposed on those closest to him.
A funny and honest history is told by one of films true survivors, Me And My Dad is a portrait of one of the most influential British filmmakers of the last 40 years. But most of all it is a story of a father and daughter finding their way back to each other through the language of film.
Director: Katrine Boorman
Producers: Katrine Boorman, Danny Moynihan. Mel Agace
Executive Producers: Rose Garnett. Christopher Simon. Felix Vossen
Production Company: Colourframe Ltd in association with Embargo Films