Masters Of Sex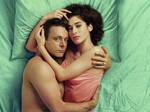 As a result of the fallout from the sex study, Dr. William Masters has left Maternity Hospital to look for a place to continue his work now that he and his wife Libby are parents. Although she's kept her job, suspicions that she was the woman in the study's sexually explicit film has made Virginia Johnson the target of innuendo and unwanted advances at work. So when Dr. Lillian DePaul can't come up with the funds to pay her for working on their women's health study, Johnson starts selling diet pills to make ends meet. As Johnson warns Libby not to force Masters to accept a job he doesn't want, their clandestine sexual relationship complicates her decision about whether or not to accept Dr. Ethan Haas' marriage proposal and move to California. Meanwhile, desperate to save his marriage, Barton Scully ignores Masters and agrees to electroshock therapy to treat his homosexuality. But when Scully tries to jump-start their sex life, his wife Margaret balks.
To help her husband land a new job, Libby insists they attend a charity gala hosted by Memorial Hospital's Dr. Doug Greathouse. As Libby works the room, Masters runs into former sex study participant Betty DiMello and her wealthy husband Gene Moretti, who offers to fund the study if he will help his wife get pregnant. So in exchange for their large donation, Greathouse hires Masters and allows him to continue his work at Memorial. Meanwhile, after telling Haas she's staying in St. Louis, Johnson suspects that DePaul is being abused. Dismissing her concerns, DePaul says her cuts and bruises come from an accident at home.
With Libby at a charity luncheon, Masters is at home struggling with their crying baby. When his mother shows up to check on him, he lashes out over how she raised him and insists she leave St. Louis once and for all. As she deals with her husband's turmoil, Margaret and their daughter Vivian stop Scully from committing suicide and then struggle to shield him from Masters. Finally, as Johnson looks to gain DePaul's trust, Masters insists on continuing their sexual relationship for study, but makes it clear he doesn't want a romance.