Masterpiece: Ireland's Favourite Painting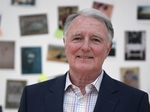 Over the last few months, RTÉ and Yellow Asylum Films have travelled the length and breadth of Ireland visiting public galleries to see their collections of art. The team talked to curators and other experts and asked them to nominate their favourite paintings.
But, most importantly, they also asked the Irish public, through Today with Pat Kenny on RTÉ Radio 1, to nominate their favourites. The hope was to come with a long-list of 100 paintings that would inspire, excite and even challenge.
Then, back in early February, a group of respected art professionals, chaired by Mike Murphy (who will be presenting the whole Masterpiece campaign) gathered to reduce this inspiring long-list to a shortlist of ten. They were joined in this by Ireland's first lady, Sabina Higgins.
The idea was to select ten paintings on behalf of - and for - the Irish public, paintings that could be put before RTÉ's viewers and listeners to let them decide which one might earn the title of Ireland's Favourite Painting.
Over the coming weeks, across the RTÉ network and beyond, there will be numerous opportunities for people to engage with these paintings. This documentary gives the viewers a comprehensive introduction to the short-list.
Then, over the coming weeks, across RTÉ and beyond, there will further opportunities to get to know the paintings as well-known celebrities and others get the chance to make their case.
Presenter Mike Murphy, himself a huge art enthusiast, said:
"Don't be intimidated by the fine buildings or the art jargon or the arty intelligentsia. Trust your own response, your own instincts. These are, after all, your paintings and, in these difficult times, they are a real source of delight and inspiration on your doorstep. Throughout my life, although I'm no expert, paintings have given me great joy. I hope that over the coming weeks you'll be able to share in some of that joy with me".
RTÉ One, Tuesday 17 April 2012 10.15pm