Martin's Still Mad About Fish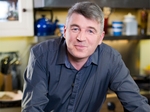 Chef Martin Shanahan is back on TV with a new mission - to get people eating fish every day! He is determined to bring the fish revolution to every midland town of Ireland. Watch out Thurles, Roscommon, Carlow - as Martin is on his way.
In his new series Martin's Still Mad About Fish, Martin travels around Ireland bringing his seafood delights to non coastal towns, helping local businesses and getting fish-hating consumers to eat fish - with surprising results.
Martin attempts to bring back the once popular indigenous shell fish back to the urban streets, like cockles and mussels in Dublin, oysters in Galway and periwinkles in Clare. During his journey Martin will share the secrets of his recipes and in doing so he hopes to inspire the country to eat more fish cooking simple and inspirational dishes.
Martin's catchphrase 'No Skin, No Bone, No Problem' has taken the mystery out of cooking fish. Martin's aim is to make every day a fish day in Ireland.
Martin Shanahan:
Martin Shanahan is one of Irelands leading seafood chefs. Over the last 10 years he has had remarkable success with his restaurant 'Fishy Fishy' in Kinsale, Co. Cork.
Episodes
Episode one
In this show Martin goes to Thurles and gives advice to the Daly family who own a fish shop.
They want to increase their sales mid week.
He cooks for the Mulcaire family in Thurles and shows mum Elaine a quick and easy family dish using shop bought chowder as the sauce base.
Martin also reinvents the Sunday roast, slow cooking a whole salmon for the family in a roasting bag.
And for the more adventurous palates Martin introduces a new fish dish using megrim.
Episode Two
Martin is in Dublin and spends some time in Howth which has the largest concentration of fish shops in Ireland.
He tries to convert Irish rugby fans to traditional Dublin shellfish cockles and mussels, and he cooks ray off the bone for a Saturday night treat as well as a quick and easy recipe of Irish prawns.
Episode Three
Martin Shanahan is off to Barcelona to one of the largest fish markets in Europe.
Setting off from Castletownbere he follows the locally caught hake to Barceleona.
There he meets a Spanish housewife who takes him in and cooks a Spanish hake specialty.
Also on his menu tonight are family treats of mackerel, John Dory and Hake.
Episode Four
Martin goes surfing in County Clare and makes a meal out of Periwinkles, he cooks a simple snack dish of whiting for the surfers and a family dish of Tuna.
In this show martin gives tips on cooking the perfect fritto misto.
RTÉ One, Thursday, 8.30pm