Marry Me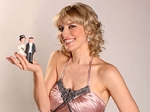 RTÉ One is about to add a sprinkling of romance to Sunday nights with new series Marry Me.
Each week presenter Pamela Flood helps a romantic soul as they try and make their dream proposal a reality, all without the knowledge of their partner!
The proposals range from the romantic to the quirky to the downright bizarre and from small and intimate locations to huge public events.
Lest there was any doubt, the series proves once and for all that Irish men and women definitely have their fingers on the pulse in the romance stakes.