Makin' Jake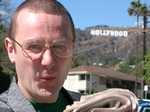 Chancer extraordinaire Jake Stevens heads for the US in search of fame and fortune.
After a string of failed business set-ups in Ireland, Jake Stevens (a.k.a. PJ Gallagher) has packed his bags in search of fame and fortune in the USA. Backed by a Credit Union loan and a whole lot of optimism, Jake's first stop is Hollywood where he is guided by an acting coach, Eric Estarda (Poncherello from CHiPs) and Lou Ferrigno (The Incredible Hulk) as he attempts to 'Make It'.
As a natural follow on to Naked Camera, Makin' Jake sees Stevens travel through the USA dealing with real people, in real situations as he attempts to break America and get rich and famous doing whatever it takes. From the Hollywood hills to San Francisco, Las Vegas, Nashville, Miami and finally New York, Jake knows he'll 'make it' it's just a matter of convincing the 'Yankee Doodle Dandies' first...