Madoff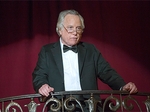 This miniseries 'Madoff' will air in two parts on RTÉ2 on Friday 28 July and Saturday 29 July
Episode 1: From Millions to Billions
Bernie Madoff, respected Wall Street fixture, has a secret. Beneath the image of devoted husband, loving father, and admired community leader, he is a thief with a criminal enterprise he's been running for decades. While the family business he runs on his office's 19th floor is a legitimate financial firm, the supposedly exclusive investment fund he runs down on the mysterious, off-limits 17th floor is actually a pure fraud -a Ponzi scheme. When a client's blunder threatens to expose Madoff's secret, he must seduce a hedge fund to invest, setting in motion the forces that take his scam from the millions to the billions of dollars.
Episode 2: Catch Me if You Cancer
With his new levels of eminence and wealth, Bernie's fund also attracts unwanted attention - in the form of a zealous whistleblower named Harry Markopolos. When Markopolos finally manages to get the SEC's attention, Bernie and his loyal criminal lieutenant, Frank are forced to devise ever more creative ways of avoiding detection. All the while, pressure builds within the Madoff clan, as his oldest son Mark demands to be included in the investment business and his youngest son Andrew is diagnosed with the family curse of cancer, unleashing resentment in his devoted wife, Ruth. With Bernie threatened from without and within, Episode 2 builds to a cliffhanger of an ending, with the SEC seemingly about to close in and bring Madoff down.
In the final part on Saturday (29 July):
Episode 3: Redemptions
Miraculously avoiding detection because of the SEC's inept bungling, Bernie soon faces a much more powerful threat as the global economy plummets towards the crash of 2008. As his investors withdraw money at a rapidly increasing rate, Bernie must return to his hustler roots to try to plug the holes in his sinking ship. Despite Ruth's devotion, Andy's remission, and Frank's commitment to keeping the fund aloft, the storm clouds close in as Bernie starts to come apart - forced to betray his oldest friends, and ultimately, to confess his crime to his family.
Episode 4: Fallout
When Bernie confesses to his family, his bitterly wounded sons waste no time in turning him in to the FBI and refusing any contact with their father. While Ruth is traumatized, she remains steadfastly by Bernie's side through his house arrest - even as Bernie becomes a worldwide symbol of greed and evil. But when Mark and Andy demand that Ruth leave Bernie, she is forced to choose between her husband and sons -with devastating consequences for all concerned. Sent to prison for the rest of his life, Bernie discovers an unexpected sense of relief among his admiring fellow criminals, but must live out the rest of his days with the knowledge that he has destroyed the one thing that truly mattered to him - his family.