Love/Hate: Season One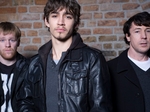 A new four-part drama serial set in Dublin's gangland. When a catastrophic event ignites the tensions in a small-time drug gang, family, friends and community must live with the impact. Starring Aidan Gillen, Robert Sheehan, Ruth Bradley, Ruth Negga and Brian Gleeson.
Season One
Programme One
He skipped Dublin when a gun was found in his house and he's been living for the past year in Spain but Darren Tracey (ROBERT SHEEHAN) decides to risk it and come back to Dublin. He's homesick and a party for his brother's release from prison is the perfect excuse. It's only for the weekend but sometimes life is full of surprises - especially if you and your friends are in gangland.
When one of the gang is killed, suspicion runs rife and thoughts turn to revenge. Darren runs into ex-girlfriend Rosie (RUTH NEGGA). Darren had left Ireland without saying goodbye to Rosie. She is now living with a gang member Stephen 'Stumpy' Doyle (PETER CAMPION). Darren still loves her but the situation is complicated.
Darren has a close shave with the gardai which means he has to stay around for a while. His sister Mary (RUTH BRADLEY) is relieved. It also gives her more opportunities to be around Darren's friend, Tommy (KILLIAN SCOTT).
Programme Two
Darren is tracking Jimmy Byrne, the chief suspect in the gangland killing. But in the meantime he needs to work and he soon finds himself slipping back into working for gangland boss John Boy Power.
In a world of paranoia and betrayal will Darren be able to keep his wits about him, kill Jimmy Byrne and find love again with Rosie?
Programme Three
The gang come back from Nidge's stag party in Prague to learn that Jimmy Byrne is back in town. His friends think Darren should kill him as soon as, but Darren's not so sure. Tension mounts as Darren needs to make decisions not only about whether to follow through on his suspicions, but about what he should do about his feelings for childhood sweetheart Rosie.
As Darren grows closer to uncovering the truth, tensions and suspicions rise among the gang. Darren in particular faces difficult decisions about his feelings for Rosie, his future and his loyalties. Are things about to spiral out of control?
Programme Four
As Nidge and Trish's wedding day arrives, gangwar is breaking out. John Boy and Hughie generate new plans and new recruits. Who will be with them?
Darren is worried about John Boy and Hughie's volatility, not just for himself but for his sister Mary and the kids. Relations between John Boy and Darren come to a head. Darren decides that it is in everyone's interest that he heads for London. Can he end the war before he leaves?
Cast List:
Click here to find out more about the Love/Hate drama series.....
Written by Stuart Carolan.

Darren Tracey - Robert Sheehan
Mary Tracey - Ruth Bradley
John Boy Power - Aidan Gillen
Hughie Power - Brian Gleeson
Rosie - Ruth Negga
Stumpy - Peter Campion
Tommy - Killian Scott
Nidge - Tom Vaughan-Lawlor
Trish - Aoibhinn McGinnity
Elmo - Lawrence Kinlan
RTÉ One, Sunday 03 October 2010, 9.30pm
RTÉ One, Sunday 10 October 2010, 9.30pm
RTÉ One, Sunday 17 October 2010, 9.30pm
RTÉ One, Sunday 24 October 2010, 9.30pm