Love/Hate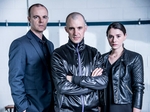 LOVE/HATE returns for a fifth season. Nidge (Tom Vaughan Lawlor) is once again king of all he surveys. The debilitating paranoia that grew from his guilt - over Darren, over Linda, everything he's done - has passed as he has narrowly avoided prison following Moynihan's surveillance operation. But he's had to take out a huge loan from an Irish drug dealer based in Spain. And there's a caveat - he's now saddled with Pauley, (Johnny Ward) who has come back from Spain to protect the lender's interests - and keep Nidge out of trouble. And even as Nidge's ambition reaches its zenith, the seeds of disaster are already sown in his past and his enemies are circling for revenge.
With Tommy (Killian Scott) back in a coma, Siobhan (Charlie Murphy) now burns with her desire for retribution. She's working with Detective Inspector Moynihan (Brían F. O'Byrne) who, having suffered a career setback from the failure of his operation, is still determined to bring Nidge down.
The tensions between Nidge and the pretender Fran (Peter Coonan) - increasingly violent, erratic and resentful of Nidge's authority - are starting to spill over into conflict and betrayal.
As his enemies close in Nidge must battle to save his throne and his skin.
Cast
Nidge - Tom Vaughan-Lawlor
Mary - Ruth Bradley
Rosie - Ruth Negga
Trish - Aoibhinn McGinnity
Fran - Peter Coonan
Linda - Denise McCormack
Tommy - Killian Scott
Siobhan - Charlie Murphy