Living the Wildlife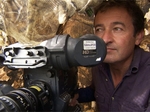 Emmy award winning cameraman Colin Stafford-Johnson returns to RTÉ for another exciting season of Living the Wildlife. Spanning the length and breadth of the country, the intrepid Colin Stafford-Johnson once again takes us on a wonderful journey exploring the diversity of wildlife that inhabit our woodlands, lakes, rivers, caves and seas.

Along the way, Colin is inspired by a host of passionate people and together they reveal intimate moments in the lives of creatures, from foxes to sparrowhawks, whales to bats, brown trout to octopus.

Produced by Gillian Marsh of GMarsh TV, 'Living the Wildlife' takes viewers right into the natural heart of our island.

The first episode will go on air on Friday 23rd of September at 7pm and the remainder of the series will be broadcast weekly thereafter.
Episodes
Ep.1 SPARROWHAWKS - Friday 23rd September 20:30 RTÉ One
In Co. Donegal, Sparrowhawk enthusiast Martin Moloney leads Colin to a hidden nest deep in the woods where a slightly macabre discovery sheds light on the feeding habits of this exciting bird of prey.


Ep.2 FOXES - Friday 30th September 20:30 RTÉ One
Foxes have learned to be wary of us. Filming them at their dens can be tricky. We follow Colin's trials and tribulations as he attempts to capture a very special moment in the private life of a vixen and her cubs for the first time.

Ep.3 HANGING TOUGH - Friday 7th October 20:30 RTÉ One
Colin meets up with old friends Conor Kelliher and Clare Heardman to see how we are taking care of lesser-horseshoe bats. Rare in Europe, the southwest of Ireland is a stronghold for this endangered and special species. Counting them in old buildings, mineshafts and hobbit houses happens in the dead of winter.

Ep.4 AUTUMNAL WHALES & DEER - Friday 14th October 20:30 RTÉ One
When humpback and fin whales visit our coasts, new technologies allow us to observe and study them in a new and exciting way. In the Phoenix Park, Tom Hayden reveals the secrets of the deer rut and goes fawn catching.

Ep.5 PEOPLE'S PASSIONS - Friday 21st October 20:30 RTÉ One
In Co. Mayo, Lynda Huxley is on a mission to reverse the decline in our swift populations by encouraging locals to incorporate swift nest boxes into buildings. Renowned onithologist and wildlife writer David Cabot shares his life-long passion for barnacle geese.

Ep. 6 WHAT LIES BENEATH - Friday 28th October 20:30 RTÉ One
A rarely seen resident has been spotted in the waters of Dublin Bay so Colin goes night diving in search of this eight- legged creature with master photographer Nigel Motyer. On a tributary off Lough Ennel, he joins up with underwater cameraman Victor Kutischev in an attempt to capture the illusive mid-winter spawning of a brown trout.