Lives on The Line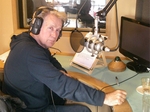 Martin Sheen narrates this moving and fascinating documentary following an
Irish human rights organisation, Front Line Defenders, as their head Mary
Lawlor goes to Guatemala to visit one of the people they support.
Dr. Yuri Melini was shot at point blank range outside his mother's house in
2008. He was hit seven times and spend 68 days in intensive care. Even though
he recovered, his life remains in danger. However that has not deterred him
from his work to protect Guatemala's natural environment and indigenous
people. Both are in danger from the seemingly endless mining and logging
corporations which are devastating the land.
RTÉ One, Tuesday, 10.15pm