Liveline: Call Back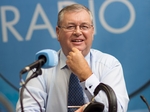 Returning for a brand new series Liveline Callback on RTE One, allows Joe Duffy to look back at some of the standout stories on the nation's favourite radio talk show Liveline and follows up on the most memorable for the TV audience.
Each programme in this eight-part series episode asks what happened after these stories featured on the radio - and follows up on the sometimes heartbreaking, sometimes heart-warming outcomes.
Stories
Episode 1
Story - "Kathleen's Roof"

82 year old Kathleen Byrne rang Liveline to tell Joe how she was scammed of €3000 by roofers claiming that her roof was damaged and needed repair. When Kathleen told the men that she had no money they drove her in their van to Raheny Post Office and asked her to take the money out of her life savings.
When she came back from the Post Office and got into the van again, she was asked, "did you get the money?". She handed over the €3,000 which the man counted.
The scammers then drove Kathleen back to her house and quickly scarpered.
On hearing Kathleen's story, listeners immediately phoned in and donated money to Kathleen.
Story - "The Search"
Surjit Nandha travelled to Dublin from Bedford, England in search of her sister who see hadn't met in 40 years. She tried registry offices etc but with no luck. On her way back to the Airport the taxi driver suggested that she phone Joe to see if he could help. She spoke on the air for 15 minutes and gave as much information about her sister as she could; listening that day was a woman on a bus in Co West Meath who identified the missing sister as her friend Vicky Jackson now living in Castlepollard.
Vicky had changed her name from her original Indian name many years ago. Due to Liveline, the two sisters have been reunited changing their lives forever.
Story- "Creature on The Loose"
In 2011 one quirky story that caught the listeners ear was when a woman from Killiney phoned in to say that a large noisy bird had taken up residence in her back garden this phone call sparked many more calls from people living in the Killiney / Dalkey area with a similar story.
After Joe Duffy's extensive on-air research it turned out that the bird was a Peahen and she belonged to Bono. As soon as callers arranged for her to be returned to Bono the Peahen would again take flight to explore more gardens in the Killiney / Dalkey area.
In this programme Joe Duffy revisits some of the people who fostered Bono's Peahen and asks them about their experience.
Episode 2
Story - "The Krays"
In June 1995 Vincent got a call to say his brother was lying in a coma in a hospital in Kent, England.
His brother had been viciously beaten by two brothers outside a pub in Dover. Vincent went to England and held his brother Gregs hand and kept vigil at his bedside. While at the hospital an envelope was delivered with a cassette tape inside. The envelope was sent from Maidstone prison by the notorious London gangster Reggie Kray. Reggie had recorded a message for Greg which repeatedly said " open your eyes Greg, open your eyes".
Greg died some weeks later however for Vincent this event in some way piqued an interest in 1960s London gangsters and in 1997 Vincent found himself having a drink with London gangster Mad Frankie Frazer and in 1999 Vincent travelled to Rio De Janeiro, Brazil to attend the 70th birthday party of Ronnie Biggs The Great Train Robber.
Story - "Crash Angels"
Larry Malone rings Liveline hoping to find the women who tended to him after a horrific crash on the Dunboyne to Maynooth road. As the story unfolds, we discover that these women and their neighbours have been providing a sort of makeshift emergency response unit because of the dangerous bends on the road outside their front doors. Joe also reveals that on the week this story was covered, it was the 25th anniversary of the death of his own brother - who died along with another person, in a road crash not far from where Larry's crash happened.
Story - "Revenue Scam"
Liveline hears about a revenue scam in which people are being left a frightening message on their landlines. The message says that they owe money to revenue, and directs them to call a number or else they will be landed with a lawsuit. When people phone the number, the scammers then scare them into giving out bank details. We hear from Sharon O'Brien, one of the people who received this call - but Sharon wasn't easily fooled - it soon becomes clear that the scammers met their match!
Episode 3
Story - "The Rent Scam"
Rebecca (originally English, now living in Wicklow and Dublin) is a student Nurse at UCD. She is on placement at various hospitals across Dublin. Last year Rebecca and her friends were scammed out of thousands by an online Rental Scam. Rebecca rang Liveline with all the details, and Joe decides to ring the scammer himself, live on air...
Story - "Margaret's Story" (Margaret Bullen)
In 2003, Samantha Long was seven months pregnant and listening to Liveline when she heard Margaret Bullen ( Maggie), her biological mother, had died. Because she didn't get word about her mothers death she and her sister Etta did not get to attend their mothers funeral.
Samantha spoke on Liveline many times in the years that followed. She and her twin sister Etta were born while their mother Maggie was still going through the system.
They were twins adopted together but in 1993 they finally got to meet their biological Mother. They met Maggie for a coffee for the first time at the Gresham Hotel, which is just around the corner from Sean MacDermott Street laundry where Margaret still lived. A relationship was formed but it was difficult with all that had passed. When they learned of their Margaret's Death they wanted her story to be told.
Margaret's story unfolded on the airwaves and led to an international campaign (Justice for Magdalenes) culminating in the McAleese report (February 2013) and an apology from the government about the treatment of women in the Magdalene Laundry system.

Story - "The Lost Suitcase"
A lively pub landlady from Ballyporeen leaves her case in a taxi while on a weekend away in Dublin - she contacts Liveline to see if there is any way she can get her suitcase back...
Episode 4
Story - "A Second Chance"
While discussing prison reform on Liveline Shane O'Neill phoned the show to comment. Shane was in the unique position in that he had served time both in Ireland and Belgium so he could compare and contrast prison services.
Shane O'Neill has a history of drugs and burglary offences he eventually found himself doing time in Gent Prison in Belgium. When he was released he went to the Irish Embassy in Brussels to ask for the price of a flight home. While in the waiting room in the embassy Shane got talking to Dublin man Charlie Kiernan who was waiting for a passport, realising Shane's situation Charlie booked him a flight with his phone and bought Shane breakfast.
The two men travelled home together and when Shane asked Charlie how he could repay him Charlie said pay it forward. Since then Shane has been totally drug free and has got full time work as a skilled plasterer. He credits the Good Samaritan gesture by Charlie as his reason for his change of lifestyle.

Story - "Anne Herlihy"
Joe had an item about travel insurance costs when Anne phoned to say her travel insurance was 1200 for four days as she had been diagnosed with stage 4 ovarian cancer which is terminal. The insurance company provide a form with boxes to tick showing long you have to live. She is on palliative care which helps sustain the cancer. She said "I am really enjoying life since being diagnosed". She has created a bucket list of things to do before she dies. She wants to renew her marriage vows and wants to do a flying lesson, driving lesson and learn to sing Both Sides Now.
She says she likes the song Both Sides Now as it gives her time to realise the sorrow she feels as often there is a pressure to be positive all the time which is impossible. So once every week she takes a quiet moment to "feel down".
In Liveline Callback Anne tells her story and we film her getting a driving lesson.
Story - "The Wrong Ring"
Marianne Crowley contacted Liveline when she discovered she had been wearing the wrong wedding ring for years... She was hoping a call to Liveline could help her solve the mystery!
Episode 5
Story - "Brooke's Broken Heart"
U2 fan, Brooke Bradley flew from Colorado, USA to see U2 play in Dublin. When Brooke got to Dublin she got an email to say that the concert tickets she bought online were no longer available and she would get a full refund. So Brooke finds herself in Dublin but with no tickets. While explaining her story to Joe it emerged that the reason she came to Dublin was to get over a broken heart with a childhood sweetheart back in Colorado. Since talking to Joe in 2015 the love of her life (also a huge U2 fan) has since married someone else and this year Brooke returned to Dublin to draw a line in the sand and leave her broken heart behind her. To do this Brooke visited U2s iconic graffiti wall on Hanover Quay to write a quote from a U2 song "A broken heart is an open heart".
Story - "Cremation"
Earlier this year a Papal edict was issued whereby Catholics are forbidden from keeping the ashes of loved ones at home but instead they should be buried in consecrated ground. Calls poured in to Liveline from people who kept the ashes of their loved ones at home.
One call was from Marian McDonald, she told how when her daughter Amy died that she didn't want to leave her in a graveyard but instead brought her ashes home and buried them in her back garden with a discrete slab of stone and a bench marking the grave. She spoke passionately of how much this means to her family and how it helps them grieve. Marian spoke of how the family sit in the garden and have a cup of tea beside Amy's grave and they feel Amy is close to them.
Story - "The Wolf Tones"
A discussion about bands and who owns the name of the band once they split up featured on Liveline in 2009. Derek Warfield of the Wolf Tones came on air to talk about his experience when he left the band some years previous. Soon the other three members of the band came on air and a bitter argument ensued. When Derek left the band he also left his band mate and brother Brian Warfield. The brothers had played together for nearly 40 years till the bands hostile split in 2001 but that day on Liveline was the first time the brothers had spoke in 8 years.
Now 16 years since the band split up, Liveline Callback meets Brian and Derek Warfield to see whether the brothers have put their differences behind them.
Episode 6
Story - "Pádraig's Story"
A moving story of one young man's experience of bullying throughout his school years....
Not long after he turned 18, Pádraig Byrne contacted Joe and shared his story about bullying. When he spoke on Liveline, his story got a huge reaction as people of all ages from all backgrounds rang in because they identified with Pádraig's experiences. When his parents heard him on the radio, they too were shocked - while they had known about the bullying, it was only when he went on Liveline that they realised the full extent of it. Pádraig came out the other side and is now hoping to become a Paramedic / Firefighter.
Story - "Dad's Last Friends"
In late June 2015 Jimmy Talbot fell down while walking along Arran Quay and died. His daughter Ingrid Murphy and family contacted Liveline because they heard from the emergency services that there were people with Jimmy when he died. Ingrid made an emotional plea to try and find anyone who was with her Father and who might be able to tell them any little thing about the circumstances of his death. Within an hour of her contacting Liveline, two men phoned in - they had been with Jimmy Talbot when he passed away...
Story - "Moby's Bench"
In 1954, John Huston was filming his epic sea classic Moby Dick - the film based on Norman Melville's novel about one man's battle against his nemesis - a huge and terrifying whale. The film boasted a stellar line up including Gregory Peck as the lead character, the fierce Captain Ahab. Set against the backdrop of tough whaling communities Huston's epic had a central location based in New Bedford, Canada. But John Huston needed a location for the opening scenes - and he found it, in Youghal, County Cork. So Liveline heard from a group of local people in Youghal telling us why it was so important to them to keep the connection with Moby Dick alive... But as the story unfolded on Liveline, it soon became clear that the council had other ideas...
Episode 7
Story - "Damsel in Distress"
In a world gone mad, sometimes we need good news stories. Liveline often hears from listeners who were the recipients of random acts of kindness... Back in early 2015, we heard from Nora Martin who told us how she had been a damsel in distress and was helped out by a stranger... and we soon learned that Nora's "Good Samaritan" story was a tale with a twist!
Story - "Deaf Stories"
In 2009 there was no 999 text service for the people of the Deaf Community. So what did the Deaf Community do when attempting to communicate with emergency services? In a unique broadcast Joe Duffy speaks with guests from the Deaf Community using people to sign and interpret for the deaf guest. He invites the radio listener into the world of the deaf person and what begins as a conversation about the text situation, soon becomes a fascinating insight into the day to day trials, joys and challenges of being deaf or hard of hearing in Ireland....
Story - "Gunned Down"
April 2016; the gangland feud between the Kinahans and Hutches was at its most fierce where killings and shootings had become an almost weekly event. Caught in the crossfire was Martin O'Rourke, an innocent man walking through Sheriff Street and gunned down by the Kinahan gang in a case of mistaken identity. People phoned Liveline that day to say that they no longer felt safe in the midst of this gangland war. Larry Power the father in law of Martin O'Rourke phoned to talk about Martin and Martin's grief stricken children.
RTÉ One, Thursday, 8.30pm