Life Without Me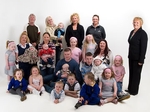 Have you ever imagined how your family would cope if you weren't there? Life Without Me is a new 6-part documentary series for RTÉ One in which a person is removed from their family and taken away on holiday for a week.
While they are away, viewers will see the rest of the family at home adjusting to life without the missing person. How will they get on? Will life become chaotic or will everything run like clockwork? Will the family function the same way or very differently? Will the missing person even be missed.?
Through the experience of separation, the family will become more aware of the role of the missing person and it will give them an opportunity to alter the family's dynamic and way of life. At the end of the week the missing person returns to the family home. Will the absence of the person mean big changes for the future? Will the family appreciate them more..or less?