Aftershock: Life After Dell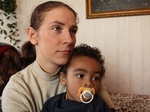 On Thursday 8th January 2009 the dreaded statement finally came. Dell workers in Limerick arrived in their droves to the news that 1,900 of the 3,000 workforce would be laid off at the Raheen plant over the following twelve months. Manufacturing was moving to Poland as part of a massive cost cutting strategy.The first 450 layoffs would happen in May and the rest throughout 2009.
Life After Dell spends twelve months with four very different families whose lives would be affected by the shocking news that day. We spend time in Limerick city and county and travel to Poland as we get to know these people as they brace themselves for an uncertain future, witnessing the highs and lows as they come to terms with their new circumstances.
Denis Ryan (53) from Newcastle West worked in Dell for 10 years. He was let go at the start of June with plans to start his own landscaping business. After the announcment in January this larger than life character set up the Dell Workers' Committee to fight for a better redundancy package in the non-union plant. Denis has become the public face of the Dell employees. He married his partner Mary in June and they have a one-year old son Darragh. The couple are coming to terms with their new life after Dell with Denis still campaigning 16 months after the announcement.
Ewelina Walas (26) worked in Dell for three years. She finished up in October. In a strange coincidence her job is going back to her home town in Poland as Dell are moving their manufacturing wing to Lodz, but Ewelina insists that she wants to stay put rather than return to her old country. As a single mother, she lives in Dooradoyle with her one year old son Julian and her mother. We follow Ewelina as she decides on her future in Limerick and returns to Lodz to visit her father who refuses to follow the rest of his family to Ireland.
Mike Costello (52) worked in Dell for over 11 years. He collected his P45 on 1st May. He lives with Geraldine and their family on a remote farm in Ballyhahill on the Limerick/Kerry border. Mike really liked his time in Dell and misses the camaraderie. In the months that followed leaving the plant he says 'I feel like a fish out of water, nowhere to go and you have no purpose'. As the months pass by we are with Mikes as he tries to get a FAS course and witness his concerns for the future.
Tommy Kelly (37) was not a Dell employee but worked at IEC- located at the back of Dell. They had a €1billion contract with Dell. Tommy worked in logistics for nine years. Tommy lost his job one month before the Dell announcement when IEC got wind of what was ahead. He lives in Patrickswell, Co. Limerick with his wife Sorcha and their two very young daughters. The pressure on this household is visible throught with the challenges of unemployment combined with having purchased a house three years ago and the frustration of dealing with the social welfare system bringing them close to tipping point on a few occassions.
This is a documentary about a community of people, from Limerick city and county, all struggling to come to terms with the impact of the layoffs. With unemployment rates in this area among the highest in the country, the chances of re-employment for many are slim. This documentary shares the stories of these ordinary people, bringing the viewer on an emotional journey where we witness courage, despair and hope over the twelve months.
RTÉ One, Wednesday 12 May 2010, 9.35pm
Useful Links