Life & Debt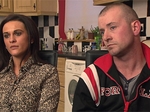 Thousands of families in Ireland today find themselves shackled by debt. For those in mortgage arrears, facing house repossession, business closure or bankruptcy, the government's proposed set of insolvency laws could be a last option. Life & Debt meets four families facing financial decisions that could change their lives.
Ger Sweeney from Gorey, County Wexford owes over €3000 in credit card and credit union debts. Unable to work after suffering a stroke, his only hope of paying off creditors may be the Debt Relief Certificate proposed under the new Insolvency bill.
Tommy and Sandra Keane from Borrisokane, County Tipperary owe €22,000 in outstanding business debts since Tommy's plastering firm collapsed. The Keanes can't pay the debts because Tommy can't find building trade work. They cannot sell their house because they live on a ghost estate which shows no signs of completion.
Joe Patterson from Trim, County Meath ran a profitable paving business during the boom. His wife has lost her job and their house is mortgaged against the business with a €100,000 debt. Work is only trickling in and the Pattersons are now six months in arrears on their mortgage.
Jillian Godsil from Shillelagh, County Wicklow owes €900,000 on a Georgian house the family hoped to run as a B&B. She's had to downsize her PR business and doesn't have the means to either pay the mortgage or her personal debts. Jill is considering filing for bankruptcy in the UK.
RTÉ One, Monday 28 May 2012 9.35pm