Knuckle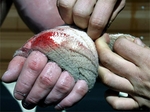 KNUCKLE takes us into this secretive Traveller world - a world of long and bitter memories and a history of violent clashes between rival clans, which has sometimes resulted in death. The film seeks to find out the real motives behind these feuds.
Chronicling a history of violent feuding between rival families, the film follows James Quinn McDonagh and his younger brother Michael, as they fight for their reputations and the honour of their family name.
In this epic journey, shot over 12 years, the action starts with a bare knuckle fight in a quiet Irish country lane in 1997 and culminates a decade later in a major fight planned to take place near Luton, England in 2007.
The film follows the fighting life of James Quinn McDonagh, unbeaten against his opponents, a fight organiser and hero to his family. Now at the end of his boxing career, James trains the younger men of his family and referees fights for other Traveller families. His younger brother Michael is in intense training for a rematch against 'Big" Paul Joyce, a top fighter from the Joyce family. An unpredictable character and keen to prove himself; Michael hopes to mend his reputation after being disqualified in a previous fight against Paul Joyce nine years before in 1999.
KNUCKLE documents the brothers' journey from youth to early middle age through the significant moments in their lives, marriage and the birth of their children, and shows how the bitterness of their clan's feud continues to overshadow everything else.
Shot in an observational style, KNUCKLE gives a hard-edged portrait of Traveller male culture and explores the bonds of loyalty, the need for revenge and the pressures to fight for the honour of your family name.
Vivid, violent and funny, KNUCKLE gains unique access into the fighting culture of a hidden, contemporary community.
KNUCKLE is a rare chance to step inside one of the world's most vibrant and elusive communities. Travellers are normally secretive about certain parts of their lifestyle. Never before has such a portrayal of their fighting traditions been committed to film.
RTÉ One, Sunday 19 February 2012 9:30pm