TV50: Kneeling In The Years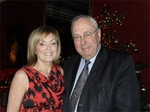 Mary Kennedy and Dermod McCarthy mark the 50th birthday of RTÉ Television with a celebration of the role of televised worship in the station's history, through a mixture of archive, chat and live music performance. Much has changed since the day the Director General first knelt to kiss Archbishop John Charles McQuaid's ring, before the TV station received his blessing on the day it opened. There is now much more diversity and less deference evident in religious programmes. But from Christmas worship in a prison to Mass on a mountain-top, from the visits of Mother Teresa and Pope John Paul to prayers for peace in the North, RTÉ has mined creative talent in every part of the country and the diaspora, to bring expressions of faith to the small screen.
Mary and Dermod are joined by a variety of guests, including the internationally-renowned composer-priest, Liam Lawton, the Discovery Gospel Choir and the boys of Dublin's Pro-Cathedral's Palestrina Choir. Sharing their recollections of participating in religious programmes are Joe Duffy - who read a prayer at the famous Galway Papal Mass, in 1979; retired Mountjoy Prison Governor, John Lonergan, who allowed cameras in for Midnight Mass amongst the prisoners; and father and daughter Pat and Celina Ahearne, who featured in a Christmas Day Mass in 1993, when he was part of the Irish peace-keeping force in the Lebanon and she was a little girl praying for her daddy's safe return. Judy Charry talks about how RTÉ's efforts to celebrate minority religions, including her own Jewish faith; and Pastor Tunde Adebayo-Oke discusses RTÉ's importance in helping members of his Nigerian-based Pentecostal Church to see Ireland as their home.
RTÉ One, Sunday 01 January 2012, 4.45pm