Kitchen Hero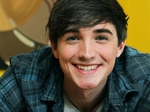 Donal Skehan is back with the second part of series 2 of Kitchen Hero with the hugely popular presenter sharing his tips and tricks for thrifty cooking and cheap eating.
But banish any thoughts of penny-pinching and making do with less than tasty fare. This brand new series is all about embracing home cooking at its very best and making inexpensive ingredients work harder for the money you spend on them, so that you can enjoy delicious food as part of your everyday diet.
"These programmes include episodes where I cook with my Granny, visit BLOOM in the Phoenix Park, learn how to keep chickens, and chat to my local butcher. There is a real emphasis on how to get the best value for money from the ingredients you use" says Donal who has also taken on a new role as a Junior Masterchef judge which airs on CBBC in the UK in November.
"My granny raised my mum and her six siblings with very little income but that never stopped her from producing wonderfully elegant yet inexpensive meals. Her long-ingrained home-making skills, using inexpensive materials and simple methods, are some the greatest kitchen tips that have been passed on to me. There is a whole army of grandparents, parents, aunts and uncles up and down the country who possess and use these skills without giving them a second thought. Many of them may have been brought up in households with tight budgets, where watching the pennies was part and parcel of daily life. Some of my favourite recipes and cooking practices are ones I've learnt as a result of just chatting on the topic of frugal cooking with those in the know ," he says.
RTÉ One, Wednesday, 7.30pm