Kitchen Hero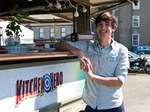 Donal Skehan is back and he's on a mission - to show people just how easy it is to prepare delicious, home-cooked food. And to do it, Donal is taking his third series on the road in a vintage Citroen H van and laying out his stall at festivals and gatherings around the country. It's Donal's HomeCooked roadshow.
"Everything I know I either taught myself or learned from my mother and grandmother" says Donal. The most important thing I know is that home-cooked food can be tastier, healthier and cheaper than almost any ready-made meals, take-aways or fast food you can buy. If you cook your own food, you know exactly what goes into it - how much sugar, how much salt, what kind of oil or butter and of course there are none of those funny sounding ingredients, trans-fats or E-numbers.
"But for me, the satisfaction of giving people food that they enjoy is just as important as the healthy stuff and the price. I get a real buzz from cooking for my friends and family and seeing them tuck into what I put on the table."
Donal will be travelling the country to promote the HomeCooked message and this brand new series sees him visiting Waterford for the Food Festival, Kerry for the Set Dancing Festival, Ballymaloe for the Lit Fest, Howth for the Dublin Bay Prawn Festival and Limerick for the River Fest, and more. Donal will be taking inspiration from home and abroad and introducing us to lots of mouth watering recipes, including Chilli and Lemongrass Chicken, Howth Seafood Chowder, Jerk Chicken with Mango Salsa, Blue Cheese Beef Sliders and Butterflied BBQ Yoghurt & Mint Lamb.
As well as the dishes he cooks for the crowds at the Festivals, he will also make lots of cakes, biscuits and other sweet treats in a section of each programme called Donal's HomeCooked Bakery.
"Of all the recipes I put up on my blog, the most downloaded and frequently requested recipes are those for cakes, biscuits and desserts.
So, each week in this new series we're going to have a section dedicated to those delicious indulgences that everyone just can't get enough of. Crisp chewy meringues with lashings of cream and summer fruits, plump profiteroles dripping with chocolate sauce, sweet and salty dark chocolate caramel biscuits, crème brulee doughnuts and rich peanut butter sandwich cookies - all of these will make an appearance in Donal's Bakery!"

RTÉ One, Thursday, 7.00pm