Kidspeak: Fresh Film Festival films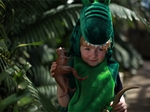 In 2012 RTÉ YPP ran a series of workshops in programme making for broadcast TV for a small group of talented Fresh Film Festival film-makers as part of its continuing involvement with festival.
Under the mentorship of RTÉ director Julian Hills, the group was tasked with producing and directing eight x 30 second films which would be broadcast as part of the Kidspeak interstitial series on RTÉ Two and RTÉjr.
The brief was to identify a suitable subject who's story could be told in a standalone 30sec film and to produce, direct, shoot and edit the piece. The group has delivered an extraordinary set of films which RTÉ YPP is proud to premiere during RTÉ: Tots, Tweens and Teens week.