Kevin Dundon's Modern Irish Food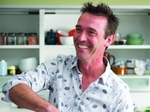 We have some of the best food produce and ingredients in the world but Irish food is often thought to consist of nothing but stews and potatoes.
In his new 10 part series, chef Kevin Dundon is about to change that. He takes all of the great produce Ireland is famous for and combines it into something even better.
Every episode showcases ingredients Ireland is renowned for such as beef, cheese and seafood which Kevin transforms into deliciously tasty modern Irish dishes.
He takes on time-honoured traditional dishes and ingredients and gives them a twist as only he can. So this series features modern takes on pork, beef and seafood. And there are several delicious ways to cook and serve our national vegetable, the potato.
"Irish food remains predominately traditional because recipes have been handed down along the generations," says Kevin. "In my case, recipes were passed to me by my grandmother and mother, both of whom have inspired my passion for cooking.
"But the world is a great melting pot of culinary traditions, tastes and experiences and I've been lucky enough to travel and enjoy these foods. So in this series, I use mostly traditional ingredients but I can't resist adding a twist here and there, pulling in other techniques and ingredients from other cultures in a way that simply combines great foods."
Dunbrody House and its heritage has also inspired Kevin but throughout this series he also visits other beautiful country estates for inspiration. So he catches delicious fresh water trout in Waterford's Fort William Estate and discovers just how distinctly Irish our buttermilk is in Cork's Fota House.
From Smoked Slade Mackerel Fillets with Blackcurrant to Rack of Wexford Lamb with Asian Spice Rub, Kevin uses his vast wealth of experience and knowledge of other food cultures to create truly Modern Irish Food.