Katherine Lynch's Big Fat Breakfast Show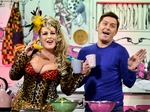 Katherine Lynch's Big Fat Breakfast Show is an all new genre-busting telly concept. Yes, it's Daytime TV.in the dark!
Anchored by comic Katherine Lynch's Traveller Country 'n Irish character 'Singing Bernie Walsh', with Brian Dowling schmaltzing it up in sidekick mode, the half hour comedy entertainment show gleefully uses and usurps the clichéd daytime tropes; the hearty sofa-bound celebrity interviews, the health advice, cookery and obscure craft demos, showbiz gossip, fitness and 'zany' charity appeals.all held together by frantic 'Menu-Update' graphics and singeingly sunny banter ...it's a Googlesack of riotous comic material.
Unlike traditional Breakfast TV Shows Katherine Lynch's Big Fat Breakfast Show features a full studio audience and guests appearing in the first season include Kerry Katona, David Gest, Denise Welch, Big Fat Gypsy Wedding Dressmaker Thelma Madine, Jodie Marsh, Aidan Power, Hardy Bucks Lead Man Martin 'Eddie Durkan' Maloney, Amy Childs and Gemma Collins from The Only Way Is Essex as well as Daytime Stalwarts Chef Kevin Dundon, wine expert Tom Doorley, Interiors Expert Neville Knott and Beauty Expert Triona 'Party' McCarthy.
Katherine Lynch's Big Fat Breakfast Show show follows on the successes of Katherine Lynch's Wonderwomen, Single Ladies and Wagons Den.
Episodes
Episode 1
Brian and Bernie are joined on the Big Fat Breakfast Sofa Of Serenity by..
Kerry Katona; the beleaguered Singer, Actress and Reality Star talks with shocking candour about her feelings on Bryan McFadden's recent second marriage to Vogue Williams
Martin Maloney; the Mayo-based Liverpudlian who writes and plays the lead character of Eddie Durkan in The Hardy Bucks talks about the forthcoming Hardy Bucks Movie and what it's like to be Ireland's Prince Harry - our foremost hellraising ginger sex symbol.
Layla Flaherty; the stunning 6ft Galway-Born star of E4's Desperate Scousewives bemoans the fact that Irishmen are totally terrified by her amazonian glamour
Triona 'Party' McCarthy; The Beauty Expert and OTT Sindo columnist explains why 'Movember' is not a good month for hirsute ladies and demonstrates how to wax a 'Lady-Tache'
Plus a debut appearance on Irish TV from performance duo 'The Gypsy Jedward'.
Katherine Lynch's Big Fat Breakfast Show is part of the Laugh Out Loud comedy line-up weeknights on RTÉ Two
Episode 2
Joining Singing Bernie Walsh and Brian Dowling are.
Ex Coronation Street actress and now longest serving panellist on ITV's Loose Women DENISE WELCH talks frankly about her battles with booze and drugs, appearing drunk and topless on Celebrity Big Brother and her new-found happiness with a man 14 years her junior.
Crimewatch UK's hunky frontman and ex CID Detective RAV WILDING talks crazed female fans and the trials of being a TV sex symbol when all he wants to do is fight crime!
And TV chef KEVIN DUNDON talks kitchen meltdowns and reveals what can happen to your food when you send it back to Chef "once too often"!
Episode 3
Legendary magician Paul Daniels and his glamorous assistant Debbie McGee hit the Big Fat Breakfast Sofa this week, revealing the secret to 34 years of being in love, spilling the beans on how Prince Charles's audition for the Magic Circle didn't quite go to plan and how loosing a finger almost ended Paul's career.
Also joining Brian and Bernie is Tallafornia Reality Star Cormac Branagan who tells us why he's not as stupid in real life as he appears on TV.
Episode 4
Glamour model and reality star Jodie Marsh hits the Big Fat Breakfast sofa and spills the beans on her year long celibacy, why she's become obsessed with competitive body building and if the two are possibly linked.
Also joining Bernie and Brian is TV sex-pert Tracey Cox who tutors Brian in the art of seduction while wine guru Tom Doorley pops in to persuade Bernie that there's more to a good bottle of wine than a high alcohol percentage.
Katherine Lynch's Big Fat Breakfast Show is part of the Laugh Out Loud comedy line-up weeknights on RTÉ Two
RTÉ Two, Tuesday, 10.10pm