Katherine Lynch's Wonderwomen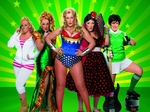 Four Irish Ladies. Four parallel lives. Katherine Lynch's WONDERWOMEN is a six-part comic 'Mock-U-Soap' which follows the aromatic adventures of a quartet of highly unusual, but nigglingly identifiable, Modern Irish Women.
All the characters feature in every episode so meet;
Meet Leitrim's LIZ HURLEY.... sexually confused small-town girl of 35 who still lives at home with the Mammy, coaches the local ladies GAA team, plays bass in small-town AC/DC Tribute act 50-50 and, because she hadn't the height for the Guards, became Leitrim's only self appointed immigration officer. Liz is a classic study in gormless good intention, zipping around town on her Honda 50 and taking everything and everyone at face value.
Re-aquaint yourself with Travelling 'Country 'n Anguish' star SINGING BERNIE WALSH. After the success of Bernie's album, Friends In Hiaces, and her triumphant performance on THE LATE LATE SHOW, Bernie's on an ego driven orgy of rampant self promotion.which takes her from The Rose Of Tralee Festival to The Gibbstown Drive-In Bingo, From The Traveller's Friend in Castlebar to Knock, From The Fast n' Furious D-Rifting Stunt-Car racing circuit to the Summer Wedding Fair Scene. In a recession-busting clash of cultures Bernie ends up at that annual festival of Tangerine-Tanned Celtic Tiger Excess, 'The Marbella Ball'.
Meet Ballsbridge teen Blogger DALKEY DUNPHY DAVENPORT, who streams live from her suite in Dublin's hippest hotel. She's the Peaches Geldof-obsessed mall rat with the orange perma-tan, the fluorescent smile, the 3 inch false eyelashes and the thousand euro handbag who."ooooh my gawd is just loike soooooooo booooored!"
Catch up with the romantic antics of SHEILA CHIC. Having dumped her murderous Egyptian boyfriend, xenophiliac Tallaght divorcee Sheila still has a hankering for exotic man-meat. So each week she bags herself a boyfriend from a different country of origin, immersing herself in his culture to ridiculous and ever increasing degrees of ignorance.
Katherine Lynch
Katherine Lynch hails from Mohill, Co. Leitrim.
As a writer and performer she has built a following within the gay community and has been entertaining Irish audiences since she won Alternative Miss Ireland with a show produced by Warren Meyler.
Following their success the pair decided to develop their unique characters for television and Katherine' Lynch's Working Girls was born.
Katherine also happens to be a grand niece of celebrated Irish poet, Patrick Kavanagh.