Katherine Lynch's Single Ladies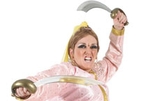 Katherine Lynch's "Single Ladies" is a 6-part fly-on-the-wall mocumentary about the life and times of a group of fascinating yet slightly demented Irish women delving deep into the hilarious abyss that qualifies as life for these very different gals living life on the cusp.
International Lino Legend Singing Bernie Walsh saddles up her trusted hiace and takes to the tarmac once again, traveling the length and breadth of the country and beyond, reporting from every culchie happening, hickey fair, seafood festival, shindig, knees-up or hoedown you've never heard off.
Maybe Bernie's grand plan to "get famouser" wasn't as clear cut as she thought it was going to be! Bernie Walsh has a bone to pick and God only knows what she'll say!
Also making a welcome return is Tallaghtfornian "scumbag in a bumbag" and all round man-poacher Miss Sheila Chic as she continues on her endless quest to scam her way to the top, in the process working her way through more foreign men then swine flu.
And of course not forgetting Mohill's very own gormless gaffer, the "one in a million", please God, Liz Hurley, with anecdotes of everything from sheep dipping to sheep tipping, singing with Mohills premier AC/DC tribute band 50/50, riding her beloved Honda 50 and coaching her beloved football team, the Mohill Lassies.
Some people get to drink from the fountain of knowledge but others only to get to gargle and spit it out and this is definitely the case for Leitrim's premier village idiot, Liz Hurley. Liz might not have had the height for the Guards, but she definitely has the brains for it!
Katherine Lynch
Katherine Lynch hails from Mohill, Co. Leitrim.
As a writer and performer she has built a following within the gay community and has been entertaining Irish audiences since she won Alternative Miss Ireland with a show produced by Warren Meyler.
Following their success the pair decided to develop their unique characters for television and Katherine' Lynch's Working Girls was born.
Katherine also happens to be a grand niece of celebrated Irish poet, Patrick Kavanagh.