Karl Spain wants to Rock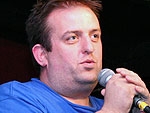 Karl Spain wants to Rock is a new series capturing the events of 'Scrap Metal: The Tour'. Offering a revealing, humorous and inspirational account of Ireland's best monster of rock tribute bands on tour together, it captures the journey, the drama and the chaos as the bands compete to be crowned the 'Scrap Metal' champions.
Which band among them possesses the fearless attitude and guitar-licking pyrotechnics to headline the main stage of the worlds ultimate tribute band festival? Which band has the tenaciousness to go that one step further and make it to the top?
The Bands:
Ireland Maiden - evangelical in their desire to convert the world to their music, they are the consummate tribute to the legendary Iron Maiden
Metallitia - the pre-eminent Metallica tribute band with a dedicated following. True believers and renowned for their ferocious energy and live shows
Thunderstruck - a mesmerising AC/DC tribute band, embodying the original looks and sound. An AC/DC experience unlike no other.
The Rubber Plants - The ultimate Led Zeppelin experience. An exciting mixture of power and innovation, which genuinely captures the spirit of the original masters.
User Illusion - Unleashing a classic Guns 'n Roses show on an unexpecting public. Dedicated to capturing the appearance and sound of their acclaimed progenitors.
Episodes
Programme 1
In the first episode, Ireland's five best hard-rock/metal tribute bands leave behind their parents, girlfriends and careers and join Karl Spain on his rock tour bus to play the first gig of the Scrap Metal Tour in Limerick.
As the tour bus pulls in to Limerick the bands take to the streets to promote the event, before gathering backstage in Limericks no.1 rock venue and prepare for the most important gig of their lives.
At the end of the gig one band will be eliminated - the rest will continue on the tour and stay in the running to becoming Ireland's no 1 metal tribute band and headline the tribute band mecca, Glastonbudget.
Little did the bands know that a true Rock God, Biff Byford from Saxon, was in town to judge this heavy metal showdown.