John Connors' America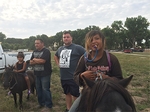 Actor and activist John Connors knows exactly what it's like to be part of a minority community and what it feels like to face discrimination in his own country. That's why he's fascinated by what's been happening recently in the US between African American communities and the police.
Filmed entirely on location in the US, Episode One of this two-part series on race relations explores the reality of discrimination, poverty and violence in African American communities.
John asks why young black men are nine times more likely to be killed by the police than young men from other backgrounds. He delves into the reasons behind the Black Lives Matter movement which began in 2012 when a neighbourhood watchman was acquitted after he shot and killed an unarmed black teenager, Trayvon Martin. The programme features footage of some of the most shocking police shootings that have taken place since then.
As America's first black president, Barack Obama is about to be replaced by President-elect Donald Trump - a man who made race such a central part of his election campaign - this is a timely look at race relations in the world's great racial melting pot.