John Healy: You Have Been Warned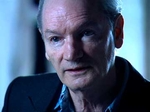 'A master storyteller with an ear, an eye and a voice that should be the envy of many men with weightier reputations, John Healy is our jaunty, gleeful tour guide and messenger from hell' -
Daniel Day Lewis
"The Grass Arena is a masterpiece." - Irvine Welsh
In the early '90s, writer John Healy was everywhere - on TV, in the papers, being interviewed, reviewed, profiled. He had many qualities that made him appealing to the media, but the most attractive one was a sense of danger. As well as being an award-winning author and the subject of an award-winning feature film, John Healy had a history of violence.
First he was a street wino, battling for survival in a world of psychopaths, then a tournament chess player, turning his extraordinary talent into a means of escape from the gutter, and then he wrote his life story, The Grass Arena. He won Britain's biggest non-fiction prize, the JR Ackerley Award, and inevitably his story, pitched as 'Rocky with chess', became a successful movie. Not bad for a man who left school barely literate at 14.
But success didn't last. After a dispute with his publishers made the front pages in 1991, his work was taken out of print suddenly and remained unavailable for many years.
Then John Healy disappeared. Dark stories emerged to fill the vacuum; he'd made threats of awful violence towards his publishers; he was mentally ill; he was a psychopath.
Now, after 16 years, he's making a comeback, launched once more on the world stage, with the likes of Irvine Welsh and Daniel Day-Lewis as his cheerleaders. His book, The Grass Arena, out of print since 1991, is selling well, with a new foreword by Day-Lewis.
But everywhere John Healy goes, his reputation for trouble precedes him, and the lifestyle he once had - writing for the broadsheets, hobnobbing with celebrities - is just a distant memory.
John Healy: You Have Been Warned chronicles one man's journey from violent oblivion, through redemption and acceptance, then back to where he started out. It tells a story about what it's like to be London-Irish, freakishly-talented but cursed with an inability to escape your circumstances.
"Some people might say the life I've lived has been sort of extreme", John says in the film.
It's an understatement. His life story has been like a rollercoaster ride and the end isn't yet in sight.
RTÉ One, Tuesday 11 January 2011, 10.15pm