Jimmy Murakami: Non-Alien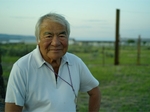 Jimmy T. Murakami is a world-renowned Oscar nominated animator whose credits include 'When the Wind Blows' and 'The Snowman' but there is one dark chapter in his life that he had not revealed until recently.
During WW2, Japanese-American citizens like Jimmy and his family were evacuated to a concentration camp in the California desert. The term "Non Alien" refers to the status the Japanese American people were given at that time. They were neither Citizen nor Alien.
This film takes you on an extraordinary journey with Jimmy, from his adopted country Ireland, through his Hollywood career, climaxing with his return to the camp to confront his childhood demons and his still present anger with the American government that put him there. Jimmy sadly passed away on 16 February 2014.
RTÉ One, Thursday, 10.45pm