Jigs And Wigs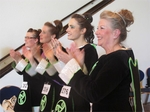 JIGS & WIGS is a new six part documentary series which looks at the extreme world of Irish dancing, a world that is constantly evolving. With the global success of Riverdance - 20 years old this year - Irish dance is an art form that has been thrust onto the world stage. The result is that there are far more Irish dancers across the globe than there are in Ireland. However, international influences have changed the tradition and the rule book - the genie is out of the bottle and everyone is getting in on the action. It's showbiz!
JIGS & WIGS features some of the more unusual individuals and their stories which make Irish dancing a vibrant and progressive entertainment phenomenon.
The series produced by Stirling Film & Television Productions for RTÉ.
RTÉ One, Thursday, 8.30pm