JFK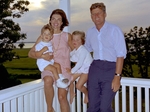 Forever enshrined in myth by an assassins bullet, John F. Kennedys presidency has often defied objective appraisal. This new portrait offers a fresh assessment of the man, his accomplishments and his unfulfilled promise. Produced and directed by Susan Bellows, JFK features interviews with Kennedy family members and historians including Robert Dallek, Robert Caro, and Evan Thomas. Beginning with Kennedys childhood years as the privileged but sickly second son of one of the wealthiest men in America, the film explores his early political career as a lacklustre congressman, his successful run for the U.S. Senate, and the game-changing presidential campaign that made him the youngest elected president in U.S. history.
Episodes
Episode One:
Part One follows JFKs rise to power from his birth to his election as president in 1960 the youngest man ever to be elected to the office. With illuminating interviews from family members, including sister Jean Kennedy Smith, niece Kathleen Kennedy Townsend, historian Robert Dallek and author Robert Caro, this episode offers new insight into Kennedys early years, from his transformation from a sickly youth to Washingtons most eligible bachelor to the nations president.
John Fitzgerald Kennedy is one of nine children born to one of the wealthiest men in America. Unlike his robust siblings, he is haunted by a mysterious illness. Finally diagnosed with Addisons disease, he will spend his life in and out of hospitals and in constant pain.
Jack Kennedy first bursts onto the national stage as a war hero through his courageous rescue of his PT-109 crewmen. When his older brother, Joe Jr., is killed in the line of duty in 1944, the familys political hopes shift to Jack. Despite the odds, he wins his Grandfather Fitzgeralds old Massachusetts congressional seat. From that point on, Kennedy rises in power and influence, unseating Senator Henry Cabot Lodge in a surprising victory and then put forward as a possible vice presidential candidate in 1956.
His campaign for president is the first to be waged on television, a distinct advantage for the telegenic candidate. Despite his lack of legislative achievements and his Catholicism which many Americans see as a negative Kennedy wins the election on the promise that he will stand up to the Soviets and protect American pre-eminence in the world.
RTÉ One, Monday 4th November, 11.15pm