Jedward's Eurovision - Take Two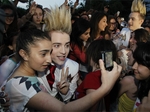 Jedward's Eurovision - Take Two is an observational documentary following the highs and lows of John and Edward's Eurovision journey to Baku, Azerbaijan.
Following the boys as they prepare for and compete in the Eurovision Song Contest 2012, the programme brings viewers backstage at the Eurovision and into the lives of John and Edward over the period of one month.
The Lucan twins now 20 years old, give their unique insights and observations on everything from the Eurovision Song Contest, they assess their competition including the Russian Grannies and Englebert Humperdinck as well as the eventual winner Sweden. The boys talk about the controversial city of Baku, the host city for the contest as they travel through it. The film shows just how hysterical and dedicated or "jedicated" the Azeris fans were when it came to Jedward.
This behind the scenes documentary gives the viewer access to Jedward as they fly the flag for Ireland on the European stage. From mentor, choreographer, designers and management, the programme offers an insight around Jedward and planning of such an event.
The programme takes an exclusive look at the Jedward's newly adopted pet rabbits "Euro" and "Vision" in their hotel room and shows the involvement of the boys in everything from their costume design, styling, staging. There is exclusive footage of the Azeri fans and their reaction to the Dublin twins, what happened when Jedward met Englebert Humperdinck for the first time and what they thought about the UK sending him to represent at the contest.
RTÉ Two, Thursday 07 June 2012 9.30pm