OMG! It's Jedward!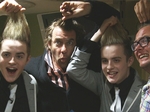 OMG! It's Jedward! is the TV hour all Jedward fans have been waiting for, with everything any self respecting Irish fan of the twosome could possibly want.
Following John and Edward Grimes as they release their debut album right up to the start of their summer tour, this special documentary will give viewers an insider look at what life inside the Jedward bubble is really like.
The endless promo fuelled by the boy's non-stop energy is the hub for the journey, from near riots at signings to performing on a rainy Saturday in Waterford with Vanilla Ice, giving Jonathon Ross locks of their hair to causing a fire engine to turn up at the Big Brother house - it's a ride that only these two boys could create. Fans will love every moment of its non-stop, sheer unadulterated Jedwardness.
With contributions from: Ray D'Arcy, Jonathan Ross, Alan Carr, Louis Walsh and thousands of screaming fans OMG! It's Jedward! is also set for release on DVD with a host of deleted scenes, their Late Late Toy Show appearance in full and various other extras.
RTÉ Two, Thursday 30th December,6.00pm.