J1 Summer in the Sun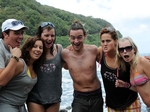 'No Frontiers' this ain't as we follow three groups of 18-23 year old students as they head to American for the ultimate J1 Summer. This observational documentary series gets an access all areas, front row seat to reveal what really goes on during these so called 'working holidays'.
This fly-on-the-wall docu-soap blends the mayhem of 'How Low Can You Go' with the drama of MTV's 'Laguna Beach'. With a crack team of DV directors, incorporating video diary and confessional blogs, we gain unfettered access to these fresh new faces.
Over six programmes we witness the tantrums, triumphs and tribulations of our wanderlust students as they leave the comforts of home behind to fend for themselves in the U.S of A. From personal hygiene to personal high jinks, nothing is sacred.
We follow each group as they search for a place to live for the summer, their ingenuity as they furnish these new digs with milk crates and plastic patio furniture, we witness their creative efforts to find work, their resourcefulness as they source the cheapest beer in North America.
So stay tuned for a journey of painful hangovers and occasional heartbreak, of minimum income jobs and of horrific cockroach infested accommodation. The ideal ingredients for the perfect J1 Summer.
This pacy and irreverent programme will make compulsive viewing as we follow this least diplomatic core of Irish ambassadors right through from June to September.
Summer 2008 won't be for the fainthearted, but pack your bags and your roller blades, dust down your bikini, press your prized FCUK T-shirt, it has to be 'J1 - Summer in the Sun'.