It's a Park's Life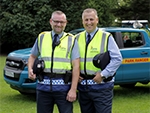 For the first time in Irish broadcasting history, Moondance Productions has been given complete access to one of Ireland's most loved and visited public spaces - Phoenix Park. In this monumental new six-part documentary series, viewers go behind-the-scenes like never before in one of Europe's largest city parks.
Narrated by Emmy winner Baz Ashmawy and airing at 8.30pm on RTÉ One on Wednesdays from September 6th, It's a Park's Life is the perfect show for the whole family to sit down and enjoy together.
Phoenix Park is like a city within a city. Three hundred and fifty years old and spanning over 1,750 acres in the centre of Dublin, it is a diverse microcosm lived in and enjoyed by dignitaries and Dubliners alike.
Later in the series, we go behind the scenes at the residence of US Ambassador to Ireland, Kevin O'Malley. With unprecedented access for Irish television, viewers are taken on a tour of the splendid Deerfield Residence and journey into the luxurious guest bedroom where John F. Kennedy stayed during his historic visit to Ireland in 1963. There's also an intimate concert from Grammy winner Jimmy Webb as part of the Creative Minds series and the annual 4th of July summer party, where the three and half thousand guests consume about 10,000 hotdogs. It'sbold, brash, and very American!
We meet Phoenix Park's head deer keeper, Terry, who has been casting a watchful eye over the park's 500-strong herd for seven years and counting. Born and raised in Ballymun in Dublin, Terry worked in the airport for years before landing his dream job. While Terry loves what he does, it does not come without its tough moments, something made painfully clear to viewers in a harrowing moment in the second episode of the series.
Throughout this landmark series, viewers will also get a chance to meet some of the people who give the Phoenix Park its unique charm. There's Barbara and her "children", six Maltese dogs, former Dublin hurler Joey Towell, who teaches hurling to busloads of tourists every single day for free, and Gráinne, the park's beloved ice-cream lady-cum-matchmaker.
There's also Ireland's oldest cricket club, the Phoenix Cricket Club, the Irish Army Equitation School, a lifetime park resident, the Leinster Model Flying Club, a Mommy Bootcamp, an Irish Paralympian and lots, lots more.
It's a Park's Life is produced and directed by Shane Brennan of Moondance Productions, creator of the long-running and much-loved series The Zoo.