It's An Irish Thing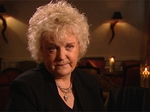 Series Overview:
Brenda Fricker remembers growing up in Ireland and how times have changed, recounts her distaste for Irish dancing lessons and the influence of the catholic church on her life. Ardal O Hanlon has fond memories of his first holy communion outfit and tells of his family's input into the formation of the Irish State. Conor Pope tells of a teacher's competition for the best beating implement while he fondly remembers the Irish educational system and Norah Casey remembers how Ireland has changed for women in business.
Other contributors include, Will Hanafin, Bill O'Herlihy Tracey Pigott, Micheal Ó Muircheartaigh and Liam Neeson.
Each show is themed and with the use of archive both national and international commentators deconstruct Irish culture in a humorous yet vaguely intellectual manner. dismantling the nuances of our customs and society that make us uniquely Irish. In the series we embrace our culture's quirkiness and our nation's habits.
The series will take eight broad topics and through these we will take an entertaining journey through our Irish Culture and its eccentricities.
Without culture we would live in a vacuum, and with culture our lives become distinctive and unique. It sets us apart from the rest.
As Off the Rails presenter Brendan Courtney says "if you are foreign and an Irish person invites you to stay.don't come, they don't really mean it.they are just being polite!"
It is the cognitive memories of our upbringing and daily traditions as well as ethnic nuances that defines who we are and what our culture is - and this is - what we will discussing in the series.
It's an Irish Thing is an RTÉ Cork Production.
Episodes
Episode One - The Irish Mammy
Celebrities like Brendan Courtney, Ardal O Hanlon and Brenda Fricker celebrate motherhood and the unique characteristics of the Irish Mammy. Ardal remembers how his "aunt" used to warm the children's underwear on the range before the children put them on. Narrated by Sean Moncrieff, this is a quirky satirical look at mothers and how we all love our mammy.
Episode Two - Childhood
Brenda Fricker, Ardal O'Hanlon and a host of other personalities remember their childhood years and adolescent days.
Episode Three - Stereotypes
Conor Pope, Norah Casey, Brenda Fricker and a host of personalities analyse what it really means to be Irish.
Episode Four - The Church
A host of celebrities remember what life was like for them growing up in Catholic Ireland.
Episode Five - Politics
Norah Casey, Ardal O'Hanlon, Brenda Fricker, Matt Cooper and a host of other celebrities get to grips with the Irish political system, the foundation of our state and our politicians habbits.
Episode Six - Culture
Irish Culture is famous the world over, our poetry, beliefs, values, and even our singing have earned us the attention of the world. At the heart of our culture is an Irish thing ..the extraordinary contribution our Irish writers have made .to English Literature.
Episode Seven - Food
In tonight's episode of It's An Irish Thing the legendary Myrtle Allen of Ballymaloe House, comedians Ardal O'Hanlon and Colin Murphy, broadcaster Ray D'Arcy plus a host of other celebrities remember their family dinners and memorable meals. What is the Irish take on food?
RTÉ One, Thursday, 3.17pm