Ireland's Property Crisis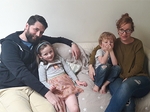 In Ireland we are living through one of the worst housing crisis since the foundation of the State. Today there are over 77,000 houses in mortgage arrears, rental demand is far outstripping supply, there are 91,000 people on social housing waiting lists and more than 7,000 people in emergency accommodation.
As policy makers scramble to offer solutions it is clear that we are standing at a crossroads and the decisions that are made now will have a lasting impact on generations to come.
IRELAND'S PROPERTY CRISIS offers a snapshot of seven days in Ireland with some of those who are on the frontline of the crisis. Whether they are people finding a way out of negative equity, looking for somewhere to rent, resisting eviction, hoping to buy their first home, or simply trying to find a bed for the night, the series gives an in-depth, personal view to help inform a national discussion at this crucial time in our history.
Featured participants in episode one;
Single mother of two Selena is witnessing first hand the reality of so few rental properties available.. Her landlord has sold her current property and she must vacate by Easter Monday. She is trying to find a home on the new HAP scheme but there is nothing available in her local Ballyfermot area. Widow Anna is in danger of losing her house after slipping into mortgage arrears.. Her debt has been sold on to a so called 'vulture fund'. We find out in our week if the new mortgage to rent rules will mean she can stay in her home.
Trinity graduate Colin spends his time in a library carrying out research, and but each day he also has to find a bed for the night, with no where to call home, he has to go for night to night accommodation in different hostels.
And we meet the Sadlier family struggling to pay off a mortgage on a one bed apartment they bought ten years ago on top of having to pay rent on a house in Donnycarney where they now live with their two children. They had been renting their apartment through Air B&B but his is now under threat. Meanwhile they are waiting to hear news from the bank that might just be the life line they need.