Into Africa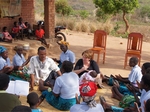 Mary Coughlan is no longer tired and emotional. She is charged and full of purpose and taking to the road again on a tour with a difference. This time, there's no band, no razzmatazz, no big city venues or cosy hotels. This time, it's just Mary and her voice and she's heading for one of the smallest and poorest countries in Africa. Mary has heard of a music project in Mzuzu - the most northern city of Malawi. She's offered to give singing workshops to the street kids on a project titled, UMOZA.
'Over the span of my career I've struggled with alcohol, bad management, personal insolvency and relationship breakdown but now, more than ever, I'm determined to map out a new course. I've a new man, a new manager and a new album on the way and I feel its time to give back.' says Mary.
Coughlan's journey to Africa not only includes workshops and recording with street kids but she also meets the women from some of the other programmes run by St. John of God's in Mzuzu. The Outreach Agricultural program includes a self-help credit union run solely by women. 'We encourage women on the bottom of the poverty ladder to take out small loans. St John of God provides a facilitator for the scheme, but the women are in charge.' says Br Aidan.
The aim of Into Africa with Mary Coughlan is for an intimate, uplifting programme about empowerment through culture and education. What better way to give people their dignity and self-respect than by joining them in music and song? Its like A Woman's Heart goes to Africa - or to be more exact - one woman's heart is taken by Africa.
RTÉ One, Thursday, 11.20pm