TV50: In My Book You Should Be Ahead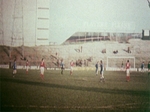 On April 21 1975, the venerable Shelbourne Football Club faced new comers Home Farm in a do-or-die FAI Cup final. Shelbourne lost 1-0. Earlier that week, Shelbourne had featured in a 'no holds barred' documentary made by Brian MacLochlainn called 'In my book you should be ahead!' which captured the depth and passion of this club's commitment to soccer and to its great tradition as a local club.
Shelbourne were founded in 1885 and had many years at the top of the soccer world in Ireland. We meet the team when its fortunes are low. Indeed, this era sees the beginning of a slide which only came to an end in 1992 when Shelbourne won the League of Ireland Championship.
In the words of Con Houlihan who wrote the publicity article for the programme in the RTÉ Guide in 1975: 'Shelbourne Football Club were for generations as taken for granted as the tides; now in a world of cumulative change their existence is insecure. They are without a ground of their own; their following is small; they are low in the League. But footballers have a strange mad pride that makes misfortune seem irrelevant -Shelbourne's displays this season have lacked nothing in spirit. Brian MacLochlainn has made a film about this club and among its many effects is the dispelling of the myth that Irish soccer is dying.
The electronic eye and ear take you into a world where players are more than numbers in permutations. You see how playing affect their lives; you see how deeply defeat depresses them; you are present at their fiercely honest self appraisals. And you meet the amazing Gerry Doyle: the film's title is a statement of his approach to every game- 'In my book you should be ahead'. He is their veteran manager. He talks about football and its tactical truths with the excitement of a Newton or an Einstein on the brink of a great discovery.
After seeing this simple and sensitive film you will never again be able to be dismissive about soccer players. And you will understand more deeply the world of those involved in the coming Cup Final meeting of Shelbourne and Home Farm'
'...In my book you should be ahead-a week in the life of a football club' will be broadcast as part of RTE's TV50 celebrations.
RTÉ One, Sunday 22 July 2012 12.15am