In Your Shoes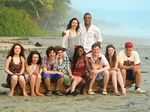 What if you won the trip of a lifetime but had to share it with someone else? Not just anyone else but a stranger whose experience of the world is so much different from yours. And what if that person's viewpoint as a person with a disability encouraged you to experience the world anew? In their shoes.
In the spring of 2013, eight young people met for the first time in Delphi Training Lodge in Galway. Four were able-bodied while four had physical disabilities (some from birth, some acquired). These eight individuals had lived very different lives but they all share a spirit for adventure and a devil-may-care attitude.
In Delphi, the group bond and learn the ropes. But while they learn new skills (abseiling, climbing, orienteering, kayaking) they remain in the dark as to where they are ultimately going. Or what they are going to do when they get there. At the end of episode one they are told their destination - two remote outposts in in the Central American country of Costa Rica.
We then follow the eight as they fly to Costa Rica where they undergo - as paired-up teams of one abled-bodied and one disabled person - a series of challenges. Over six half-hour programmes they will bond, surf, climb and raft and a host of other things.
For these eight people, Costa Rica will be both paradise and obstacle course: a dream and sometimes a nightmare. They will not be competing with each other but with themselves: undergoing new experiences and learning new things as they work as a duo and cope with each other's abilities and disabilities.
Over the course of the series, we will intimately get to know the individual personalities, share their ups and downs, and follow their on-going dramas.
IN YOUR SHOES is about risk and decision-making. It is about success and sometimes failure. It is about sharing and caring and having one hell of a time. And ultimately it is about being in someone else's shoes and realising that yes, they sometimes fit. Perfectly.
The series has two on-screen mentors, the Irish-born presenter from Limerick Kamal Ibrahim (ICA Celebrity Bootcamp, Celebrity Masterchef) and Daraine Mulvihill who was a presenter on Channel 4's 2012 Paralympics coverage.
Episodes
Episode One
We meet the eight 16/17-year-old strangers (four able-bodied, four with a physical disability) as they meet for the first time at Delphi Training Lodge. They are paired up and put through an intensive training course in preparation for a mission that is as yet unnamed and unspecified. We meet each person who tell us their story as well as saying what they expect over the coming weeks. At the end of the training course all are called to a meeting where they are told of their destination and what they will shortly face in Costa Rica.
Episode Two
Shaka Surf Retreat, Santa Teresa, Costa Rica. Base camp. The group are briefed on the island and the adventures ahead. They start to learn to live together and get a sense of each other's' strong points and weaknesses as well as learning a bit about each other face to face. They embark on their first adventure together - adaptive surfing (surfing for people with disabilities), which for some of the group is going to be very difficult.
Episode Three
From Shaka Lodge, the eight students will set out on their next challenge - quad biking. Each challenge brings its own peculiarities and problems but the key for each pair is team work - working as buddies to overcome the difficulties they face together. Taking on the rugged Costa Rican terrain, and the incoming tides,on these bikes isn't going to be easy.
Episode Four
The group move camp, from Santa Teresa to La Fortuna in the shadow of the mighty Arenal Volcano. They are briefed on the location and told of the adventures ahead. Now they get ready for the sequence of challenges ahead and attempt the first obstacle there Zip Lining. This challenge entails flying a hundred feet over a forest at speeds of up to 50k per hour not easy when youve spent your life in a wheelchair!
Episode Five
Tiredness is starting to set in and many of the teenagers are exhilarated as well as exhausted. New friendships are being created and a whole new idea of what disability means is starting to be acknowledged. The latest challenge will be the most testing yet whitewater rafting down the dangerous waters of The Sarapiqu River.
Episode Six
The end is in sight. The intrepid eight have not just conquered the island but also their fears and learnt new skills. It will have been an up and down adventure but one that ends on a high in this final episode as they face the final and hardest challenge of all - waterfall canyoneering (abseiling). This involves facing major obstacles, and finishes as they travel down a 250 feet cliff-face. It is here that they complete their great adventure and take stock of all theyve learnt about each other and the world of disability.
The Eight Participants are:
DARDAN DAKA from Cork city
RUAIRI MEYLER from Donabate
CLODAGH FARRELL from Dunboyne, Co. Meath
MARIA-ANNA WATCHORN from Dundrum, Co. Dublin
BRION KIERNAN from Athboy, Co Meath
PADDY O'LEARY from Gowran, Co Kilkenny
AOIFE CARTON from Knocklyon, Co. Dublin
AYOBASMI AKINSE from Lucan, Co. Dublin
Please contact TVPR for further information: tvpr@eircom.net
Ann Coughlan 087 6778045
Pauline Cronin 087 2629967