The Imelda May Show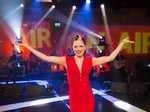 Filmed in front of a live studio audience and presented by the one and only Imelda May the show will feature a lively mix of chat and live performances from legendary musicians and emerging acts from across Ireland and around the world.
Guest on the show this series include; Bob Geldof and The Boomtown Rats, Lulu, Kodaline, Delorentos, Hothouse Flowers, Coronas, Damien Dempsey, Soak, Mundy and Marc Almond to name but a few and of course Imelda herself will perform live in studio with her band.
Episode one of The Imelda May Show airs on Friday, 24 July 9.35pm on RTÉ One and will feature Imelda May and her band, Kodaline, Hothouse Flowers, Fight Like Apes and The Lost Brothers.
RTÉ Radio 1 are delighted to welcome Imelda May onto The Ronan Collins Show each Friday, to introduce exclusive performances ahead of each week's TV show. The Rónan Collins Show is the biggest music show on Irish radio, and Imelda is a firm favourite with the listener when she pops up on air.
Shows
Show 1

Imelda May and Band
Fight Like Apes
Kodaline
The Lost Brothers
The Hot House Flowers


Show 2

Mundy
Soak
Big Boy Bloater
Bob Geldof & The Boomtown Rats

Show 3

Aldoc
Damien Dempsey
Lulu
Ray Lynham


Show 4

The Coronas
Dublin Legends
Ham Sandwich
Cry Monster Cry
The Academic

Show 5

Imelda May & Band
Marc Almond
Camile O'Sullivan
The Bionic Rats
Mike Sanchez
Delorentos