I'm An Adult, Get Me Out Of Here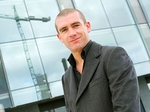 I'm An Adult, Get Me Out Of Here is an eight part series on RTÉ Two. It's a property show which a difference, as it focuses solely on helping a new Irish demographic - CLOPSies (Children Living Off Their Parents Still) get on the property ladder. TV newcomer, John Maguire, presents the programme and each week he shows the participants that is is possible to cut the apron strings and buy property in Ireland.
Adult children living at home with their mammies and daddies is not a new phenomenon. It is, however, a growing one.
The series underlines the difficulty young people now have getting onto the property ladder. It also underlines the national obsession we have with owning, rather than renting, our homes. This series attempts to give them a helping hand, or a good shove in the right direction.
The programme features adults ranging in age from 24 to 33 - drawn from different occupations and backgrounds - nurses, guards, teachers, factory managers, brother and sister buying together, single mothers, friends buying together. All are seeking to buy but along the way there will have to be compromise and some imaginative problem solving.
The show is presented by John McGuire, a new face to Irish television. John's qualifications for the job are varied. Most importantly, John does not live at home with his mum and dad. By day he runs a successful mortgage brokerage - First Credit. He's also a property investor and bought his first house when he was 22. Eleven years later he has a portfolio of properties nationally and internationally. So he knows his way around finance and property, and at 33 he has a notion of the lifestyle needs of your average 27 year old. John's job is to help eight adult children finally fly the nest.