How to Cook Well with Rory O'Connell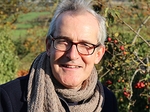 Following the very positive reaction to Rory O'Connell's first series last Spring, and the Christmas programmes which he co-presents with his sister Darina Allen, Rory O'Connell is back with a second series of 'How To Cook Well with Rory O'Connell' starting on Wednesday 20th April.
Rory is Ireland's most experienced cookery teacher - he has been teaching people how to cook for more than 30 years, having co-founded the Ballymaloe Cookery School with Darina. As well as teaching, Rory has worked as a chef in some of the world's top restaurants including Chez Nico, Chez Panisse and with Raymond Blanc at Le Manoir aux Quat Saisons.
Rory's first book 'Master It' won the Andre Simon Food Book Award in 2013.
He says: "I want to give people confidence in the kitchen. When I wrote the book it was about sharing what I do and that's the idea of the TV programme as well. I feel comfortable on TV, maybe because I stand up and teach in front of a live audience two or three days a week."
Rory's new 8 part series differs from other cookery shows because the programmes are based around techniques that every serious cook should master. These are timeless, classic, essential techniques, completely independent of fashion or gimmicks, and anyone who wants to cook properly needs to understand them.
"For people who have done very little cooking and want to give it a try, if they follow the recipe they have a much better chance of getting a good result" he says.
"And that in turn encourages them to go on and try something else that they might have thought was beyond them."
Each week, Rory demonstrates three recipes that combine to make a perfectly balanced meal, but which can also be made and served on their own, or with other dishes.
Programme one: In the first programme, Rory prepares Kale Broth with Lemon and Parmesan, Grilled Chicken with Marjoram and Lemon and Roasted Almond Sauce; and a delicious dessert of Yogurt and Star Anise Cream.
How to Cook Well With Rory O'Connell is produced and directed by David Hare of InproductionTV for RTÉ and is sponsored by Neff