How to Create a Garden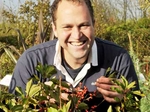 Kitty Scully and Peter Dowdall are back for a summer series of How To Create a Garden.
Back in April we followed both gardeners as they built two unique gardens from scratch on the grounds of Fota house in East Cork. Now that all the hard work is done Kitty and Peter will show us how to enjoy the fruits of our labour and will have plenty of handy tips for planting and maintaining your own garden at home.
Also if you're not sure about the best way to cook your courgettes there will be celebrity chefs on site to show you how. Plus handyman Sean O'Neill has lots of DIY projects lined up including how to build a BBQ.