Hook & Pope Roadshow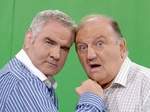 The Heineken Cup Roadshow with Hook and Pope is an entertaining mix of analysis and chat as our hosts and special guests review and preview the latest Heineken Cup action.
George Hook and Brent Pope take to the road, bringing with them their passion and enthusiasm for The Heineken Cup. Each week, the roadshow is broadcast live from a different rugby club from around the country where our inimitable hosts will stimulate impassioned debate and discussion on the burning issues around The Heineken Cup. And it isn't just Hook and Pope doing the talking! The live audience play an important part of the show as they air their views and join the discussion. The audience at home also have the opportunity to interact with the show by texting their comments and questions. Après Match's Risteard Cooper adds to the entertainment with his comic inserts featuring characters which may be familiar to Ireland's Heineken Cup fans.